WMed Health Surgery provides consultations, diagnosis, and treatment for adults and children requiring surgical procedures. Appointments may require a physician referral.
Services and procedures we provide include:
Acute care surgery
Advanced endoscopic evaluation and surgical treatment of upper gastrointestinal and small bowel disorders, including:

Achalasia
Barrett's Esophagus
Hiatal hernia
Specific evaluations for Gastroesophageal Reflux Disease (GERD) including manometry and 24-hour pH study
Ulcers

Advanced foregut laparoscopic surgery, including:

Heller Myotomy for achalasia
Laparoscopic hiatal hernia repair
Laparoscopic Anti-Reflux Surgery such as Nissan fundoplication (i.e. stomach wrap for GERD)
Laparoscopic surgery of stomach for ulcers and tumors

Breast surgery:

Benign and malignant tumors
Sentinel lymph node biopsy
Breast cysts

daVinci Robotic Surgery for inguinal and ventral hernias, gallbladder disease and GERD
Endocrine surgery

Adrenal glands
Parathyroid
Thyroid

Gastrointestinal endoscopy including:

Esophagogastroduodenoscopy(EGD) for diagnosis of upper gastrointestinal tract diseases such as Barrett's Esophagus and peptic ulcer disease
Screening colonoscopy for colon and rectal cancer

Gastrointestinal surgeries and procedures, including:

Appendectomy
Colon surgery for benign disease such as diverticulitis, bleeding, malignant tumors and colostomy reversal
Esophagus and stomach surgery for benign and malignant tumors
Exploratory surgery, both laparoscopic and open
Feeding tubes such as percutaneous gastrostomy and jejunostomy
Gallbladder surgery as laparoscopic cholecystectomy and biliary ducts surgery
Small bowel surgery for tumors
Surgery for benign pancreatic diseases such as cysts
Surgery for bowel obstruction

Hernia surgery including open and laparoscopic techniques for the following hernias:

Inguinal
Umbilical
Ventral/Incisional
Femoral

Laparoscopic solid organ surgery such as splenectomy and adrenalectomy
Lymph node biopsy
Skin excisions and biopsy of skin lesions such as lipomas, tumors and hidradenitis
Our Location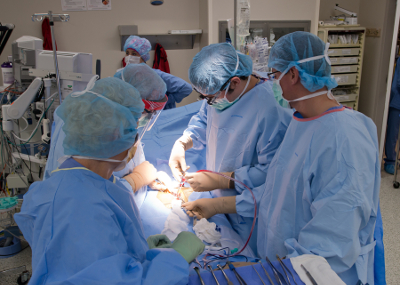 WMed Health Surgery is located at 1000 Oakland Drive on the 1st floor in Kalamazoo, Michigan. Parking is available adjacent to the building. Our practice is a non-smoking environment. We strive to provide a clean environment for our patients.
Fees and Insurance
WMed Health Surgery participates with many insurance providers, including Medicaid and Medicaid Health Plans. Before you first visit, check with your insurance company to understand what services will be paid for by your insurance plan. For every appointment, you will need to bring your insurance card(s). Co-pays are due at the time of service and accepted forms of payment are cash, check, MasterCard, Visa, and Discover. If you have questions, our patient financial counselors we are ready to help you. Please call our Billing Department at 269.337.4460.
Referrals
A referral by a healthcare provider may be required depending on your insurance coverage. To refer, call 269.337.6289 or fax 269.337.6547. To make a referral in Epic, "Add Order" at the bottom of the right of the progress note or within the Meds and Orders section, search for the word "referral" and the Epic referral name WMed General Surgery.
Our Providers