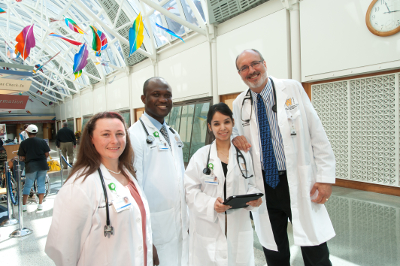 At WMed, we value each individual and the unique skills and background you bring to our community. Where else can you join a team whose mission is committed to excellence and health equity through transformative medical education, high-quality, patient- and family-centered care, innovative research, and community partnerships within a just culture of diversity, equity, inclusion, and belonging? It is an exciting time to join the WMed team as we offer new and diverse career opportunities in medical education, patient care, and research. Working here is more than a job; it is a career in which you can be part of a team that strives for excellence. Come work in a challenging and growing environment with outstanding career opportunities and excellent benefits. WMed is an equal employment opportunity employer, and provides a diverse, non-discriminatory work environment.
Research shows that individuals from historically excluded groups often apply to jobs only if they meet 100% of the qualifications. We recognize that an applicant is unlikely to meet 100% of the qualifications for a given role. Therefore, if much of a position description describes you, we highly encourage you to apply for the role.
Review our current openings and submit your online application.
Flexible Work Solutions
We offer flexible work solutions to balance remote and in-person work depending on the position and the needs of the institution.
Employee Health and Safety
To ensure the health and safety of our workforce, we required proof of immunizations at time of hire. All employees are required to show proof of influenza annually and COVID-19 vaccination. Medical and religious exemptions are considered. Other immunizations may be required depending on the position.
Benefits
In order to attract and retain the best individuals, we offer full-time employees challenging work, competitive salaries, and comprehensive benefits that include:
Health, Dental, and Vision Insurance
Health Savings Account
Flexible Spending Accounts
Paid Time Off and Holidays
Life Insurance
Tuition Reimbursement

Employee Assistance Program
Short-Term Disability
Long-Term Disability
403b Retirement Plan
Deferred Compensation Plan
Wellness Reimbursement
Learn more about the benefits that relate to you: 
Living in Kalamazoo
Kalamazoo is a great place to live, work, and learn, and the city was recently named one of the 150 Best Places to Live in the U.S. in 2020-21 by U.S. News and World Report. Want to learn more? Check out our Living in Kalamazoo webpage.
Consumer Information and Campus Safety
As an educational institution, WMed is required to provide consumer information to prospective employees. Our Annual Campus Safety and Security Report includes statistics on reported crimes as well as policies and procedures that are designed to promote a safe, secure learning and working environment. For information or to receive a printed copy contact the Office of the Dean at office.dean@wmed.edu or 269.337.4503.