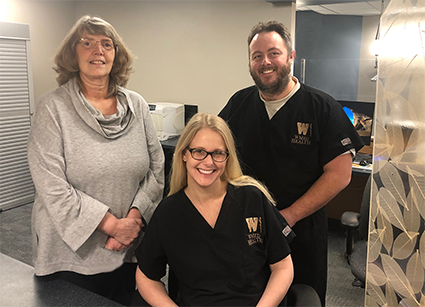 WMed Health Psychiatry provides an outstanding academic outpatient psychiatric clinic which sets the standard for patient care in the region. Our goal is to provide comprehensive psychiatric evaluation and treatment which is ethical, accessible, efficient, evidence-based, and advances scientific knowledge. The services we provide include inpatient care, Adolescent Partial Program, Consult/Liaison Service, and ECT. We strive to advance the mission of WMed through a commitment to excellence and health equity.
The clinic is able to see adolescent and adult patients. Once a patient is accepted into our practice they will be assigned to a senior psychiatry resident, which is a physician undergoing specialty training in psychiatry. Appointments with psychiatry residents are supervised via closed circuit video from a separate office by expert faculty psychiatrists. Nursing and social work support is available within the clinic as well.
Our Location
WMed Health Psychiatry is located at 1717 Shaffer Road in the Ascension Borgess North Professional Building in Suite 010 on the Lower Level in Kalamazoo, Michigan. Parking is available adjacent to the building. Our practice is a non-smoking environment.
Fees and Insurance
WMed Health Psychiatry participates with many insurance providers, including Medicaid Health Plans. Before you first visit, check with your insurance company to understand what services will be paid for by your insurance plan. For every appointment, you will need to bring your insurance card(s). Co-pays are due at the time of service and accepted forms of payment are cash, check, MasterCard, Visa, and Discover. If you have questions, our patient financial counselors we are ready to help you. Please call our Billing Department at 269.337.4460.
Referrals
A referral by a healthcare provider may be required depending on your insurance coverage. To refer, call 269.337.4475 or fax 269.337.6547. To make a referral in Epic, "Add Order" at the bottom of the right of the progress note or within the Meds and Orders section, search for the word "referral" and the Epic referral name WMed Psychiatry.
Resident Physicians
Faculty