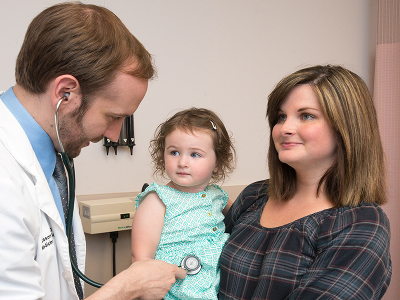 WMed Health Medicine-Pediatrics offers a full range of medical care for newborns to geriatrics. We are accepting new patients.
Our doctors are trained in both Pediatrics and Internal Medicine and can provide the same range of medical services as other internists and pediatricians. We are proud to be nationally recognized as a patient-centered medical home. Our model of care emphasizes care coordination and communication to best meet the needs of you and your family.

Services and procedures we provide include:
Acute illness visits
Adolescent medicine
Behavioral medicine
Care navigators/managers
Clinical pharmacy team
Contraceptive counseling and procedures
Cryotherapy of skin lesions
Chronic medical conditions (diabetes, high blood pressure, etc.)
EKG
Immunizations
Laceration repair
Care of lung diseases (i.e., asthma, cystic fibrosis, and COPD)
Men's and women's health
Minor office surgery

Newborn and child care
On-site lab
On-site pharmacy
Osteopathic manipulative therapy
Point of care ultrasound
Preventive care
Pulmonary function test
Radiology
School physicals
Skin biopsy and excision
Skin cancer screening and diagnosis
Social workers
Sports-related injuries
Well child exams
WMed is proud to be a part of the National Heart, Lung, and Blood Institute (NHLBI) Breathe Better Network Breathe Better Network. Since our initial subcontract with NHLBI in 2018, we have been guided by the COPD National Action Plan in bringing awareness and resources to those in our community, so people living with or affected by COPD. Find more information on our Think COPD webpage.

The National Heart, Lung, and Blood Institute's (NHLBI) COPD Learn More Breathe Better® program supports WMed's outreach and educational efforts.
Our Location
WMed Health Medicine-Pediatrics is located at 1000 Oakland Drive on the 2nd floor in Kalamazoo, Michigan. Parking is available adjacent to the building. Our practice is a non-smoking environment. We strive to provide a clean environment for our patients.
Fees and Insurance
WMed Health Medicine-Pediatrics participates with many insurance providers, including Medicaid and Medicaid Health Plans. Before you first visit, check with your insurance company to understand what services will be paid for by your insurance plan. For every appointment, you will need to bring your insurance card(s). Co-pays are due at the time of service and accepted forms of payment are cash, check, MasterCard, Visa, and Discover. If you have questions, our patient financial counselors we are ready to help you. Please call our Billing Department at 269.337.4460.
Our Providers
Resident Physicians