During the three-year residency, we have designed a didactic and clinical curriculum that provides an environment where residents have optimal exposure to the core content of emergency medicine training. A weekly education conference is designed to supplement clinical experiences with formal lectures, small groups, special events, and simulation labs.
Our program is dynamic and responsive to resident feedback. We evaluate our rotations annually as part of our mission to constantly improve.
21 days of vacation are allotted per training level. Residents are able to self-schedule vacation during EM rotations with a maximum of seven days of vacation allowed per block.
Each resident can submit one request to the program coordinator regarding their block schedule for the following year. This is helpful if you know you will need time off for a specific event.
Want to learn more about how you will spend your time as a resident? Check out our sample block schedule.
PGY-1 Schedule
The primary goal of the first year of residency training is to learn the foundations of evaluation, diagnosis, and treatment of common emergency disorders and the performance of procedures. Our residents complete rotations in Emergency Medicine, Adult Critical Care, Pediatric Critical Care, Pediatrics, Anesthesiology, and Trauma. In addition, residents participate in a longitudinal emergency medicine ultrasound curriculum consisting of scheduled ultrasound shifts with senior residents, as well as electronic ultrasound learning modules. This occurs once per EM block.
| Blocks | Rotation |
| --- | --- |
| 7** | Emergency Medicine |
| 2.5 | Medical Intensive Care (residents with only 2 blocks in PGY-1 year will have 2.5 blocks in PGY-2 year). |
| 1 | Trauma ICU (Bronson Methodist Hospital) |
| 1 | Pediatric ICU |
| 0.5 | Interventional Radiology or Palliative Care |
| 0.5 | Inpatient Pediatrics |
| 0.5 | Anesthesiology |
|   | Longitudinal ultrasound training while on EM blocks |

PGY-2 Schedule
The second year of Emergency Medicine training places additional emphasis on Critical Care via a supervisory rotation in Adult Critical Care. Our residents do additional rotations in Ophthalmology and Obstetrics, as well as more than 8 blocks of Emergency Medicine. Residents have increased patient care, educational, and supervisory responsibilities, as well as pre-hospital medical control and flight physician responsibilities.
| Blocks | Rotation |
| --- | --- |
| 8.75 | Emergency Medicine* |
| 1 | Medical Intensive Care Senior |
| 1 | Pediatric ICU |
| 1 | Orthopaedic Surgery |
| 0.5 | Obstetrics and Gynecology |
| 0.25 | Ophthalmology |
| 0.5 | Elective |
|   | Ultrasound longitudinal education on each Emergency Medicine block |

*In place of a dedicated EMS Month, we have a longitudinal EMS experience in which senior EM residents are assigned to our MSU-1 Physician Response Unit, typically one 24-hour shift during each EM month. Additionally, residents electing to fly on our helicopter at West Michigan AirCare are typically scheduled for one 24-hour AirCare shift during each EM Month.  Please note that scheduled MSU-1 and AirCare shifts result in a reduction in EM shifts. We believe that this longitudinal approach is far superior to a more traditional focused EMS Month.
PGY-3 Schedule
Our senior Emergency Medicine residents spend the bulk of their time in the emergency department setting and gain further experience in critical care. They have additional responsibilities in patient care, supervision and education of junior house staff and students. During the one-month EM/EM Teaching rotation, our residents experience a reduction in ED clinical responsibilities and take on a wide range of instructional activities working with medical students, rotating residents, EMS students, and paramedics. Supervising Emergency Medicine faculty are in the emergency department 24 hours a day.
| Blocks | Rotation |
| --- | --- |
| 9.25 | Emergency Medicine |
| 1 | Emergency Medicine Teaching |
| 1.5 | Medical Intensive Care Senior |
| 1 | Elective |
| 0.25 | Regional Anesthesia |
|   | Ultrasound longitudinal education on each Emergency Medicine block |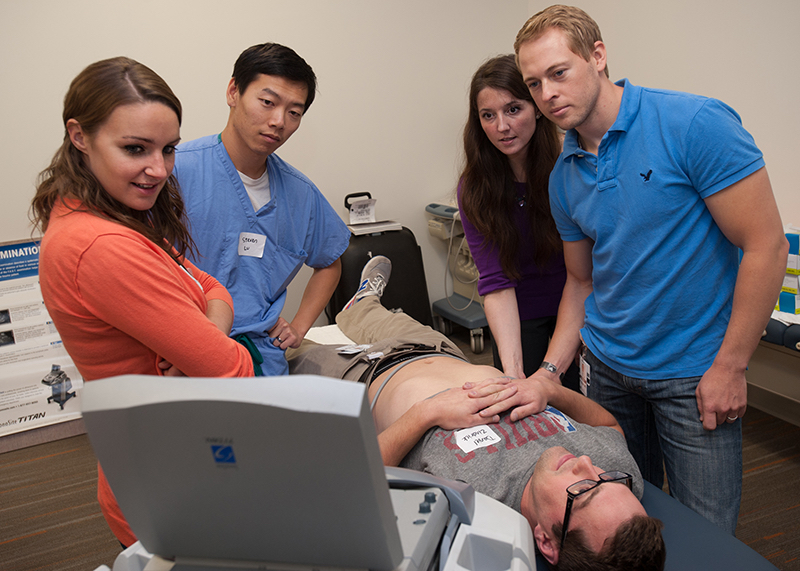 Emergency Medicine Conferences
Approximately five hours of conferences, including interdisciplinary trauma conferences, are held each week for our residents and cover a wide spectrum of emergency subjects. Our guest speaker program features emergency medicine lecturers of national and international repute. A separate, dedicated conference series is aimed at medical students. Residents assist in medical student education and in the orientation session held at the beginning of each month for rotating students and residents.
Innovative Education
The WMed Department of Emergency Medicine is committed to the constant pursuit of innovative educational programs that strengthen our residents' experience and result in better-prepared emergency physicians. Our residents' education takes place in many areas and in many ways. Clearly, the hospital clinical arena is where residents receive the bulk of their training. However, education also occurs in the lecture hall, the Simulation Center, in textbooks and journals, in the pre-hospital setting, on the computer, and elsewhere. We all learn in unique ways and WMed strives to provide a variety of instructional modalities intended to maximize the learning experience and develop caring, competent emergency physicians.
Specialty Tracks
Although the primary goal of our residency program is to train outstanding emergency physicians, we realize there are residents with additional career interests who wish to explore and develop other areas of expertise Our curriculum affords sufficient flexibility to accommodate many of these pursuits and we have developed a number of optional specialty tracks for residents with specific interests. In many circumstances, these tracks are essentially "mini-fellowships." They are entirely optional and our residents may be able to mix and match different features from different tracks. Our residency specialty tracks include: