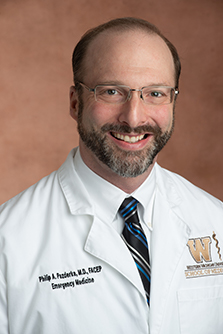 Welcome from the Program Director
Welcome to the Emergency Medicine Residency Program. Our residency:
Combines the educational and clinical excellence of two leading tertiary care medical centers with the academics of Western Michigan University Homer Stryker M.D. School of Medicine.
Is an ACGME-accredited, three-year program whose objective is to train excellent emergency clinicians in an educationally supportive environment. We afford sufficient curricular flexibility to enable physicians to enter any type of practice they desire.
Alumni are highly competent emergency clinicians with the ability to care for the sickest patients. Our curriculum focuses on critical care as well as EMS.
Includes a large, well-qualified emergency medicine faculty dedicated to education and research.
Has active pre-hospital care and air medical transport systems
Includes a long-established air medical program that provides residents with hands-on experience in critical care transport. Offers an outstanding clinical experience, with over 160,000 patient visits.
Includes a very strong ground EMS curriculum, featuring an innovative resident-staffed in-field EMS response vehicle. 

FAQs