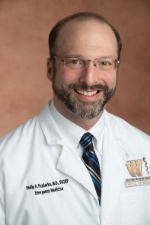 Philip A Pazderka, MD
Residency Program Director, Department of Emergency Medicine
Assistant Professor, Department of Emergency Medicine
---
Biosketch
Philip Pazderka, MD, is a board-certified emergency medicine physician with Western Michigan University Homer Stryker M.D. School of Medicine. He currently serves as the Department of Emergency Medicine's Emergency Medicine Residency Program Director.
Dr. Pazderka is a graduate of the University of Nebraska - Lincoln in Lincoln, Nebraska. He earned his medical degree from the University of Nebraska Medical Center in Omaha, Nebraska. He completed his emergency medicine residency at Michigan State University - Kalamazoo Center for Medical Studies in Kalamazoo, Michigan. Dr. Pazderka has also pursued additional training in graduate medical education, completing a fellowship with the American College of Emergency Physicians in teaching.
Dr. Pazderka serves as a peer reviewer for Journal of Investigative Surgery and Annals of Emergency Medicine. He is active at WMed, serving on the institution's Quality Improvement Committee, the Strategic Planning Leadership Team, and the Faculty Academic Council.