Residents combine traditional medical care with functional medicine in Battle Creek
A residency track that combines functional medicine with traditional medical care is gaining steam in Battle Creek. 
The medical school's first cohort of residents recently finished the Functional Medicine residency track, additional training for family medicine physicians that combines functional medicine with allopathic treatment.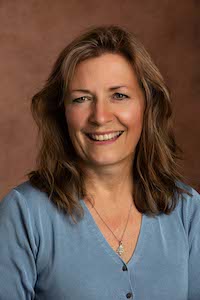 The track is led by Ramona Wallace, DO, an assistant professor in the Department of Family and Community Medicine and a family medicine physician who sees patients at Grace Health in Battle Creek. Dr. Wallace brought the idea to WMed when she joined as a faculty member in 2019 and the idea was supported by Holli Neiman-Hart, MD, program director of WMed's Family Medicine Residency Program in Battle Creek. The first cohort started the residency track in 2020 and are preparing for or have taken the exam to earn the certification. Physicians must log 200 clinic hours, complete a case study and pass the exam. Upon passing their exams, they will receive a certification in functional medicine on top of meeting the requirements for a residency in family medicine. The latest cohort started their residency track in July 2023.
"Functional medicine looks at lifestyle, root causes of disease and is a comprehensive approach to treating patients," Dr. Wallace said. "It's a deep dive into the systems biology," Dr. Wallace said. 
Nationally, the Institute for Functional Medicine (IFM) has seen increased demand from academic institutions to train and certify their faculty and to offer functional medicine education earlier in student and resident training programs. The curriculum used in functional medicine is evidence-based and helps medical learners to implement lifestyle and personalized medicine.
"We are thrilled to be able to offer this valuable care to the people of our community," said Daniel Stulberg, MD, chair of the Department of Family and Community Medicine. "We are also excited by the interest in our residents to learn these skills, become proficient and take this type of care out into their future practices to serve even more people."
Dr. Wallace has been invited to give talks at several organizations across the nation about the residency track, and she hosts monthly functional workshops for physicians at the medical school.
"Nationally, we have received attention because we're finding the residents who go through the functional medicine track are able to deliver high-quality care," Dr. Wallace said. "They're able to meet the patient where they're at and use another tool set. They have a greater understanding of the underlying ideology of chronic disease and illnesses." 
Dr. Wallace holds a functional medicine clinic at Grace Health for patients who want to address the concerns they have in conjunction with allopathic ways of treatment.
"It works synergistically to help patients understand and fill in some of the gaps in their health they haven't been able to address," Dr. Wallace said.