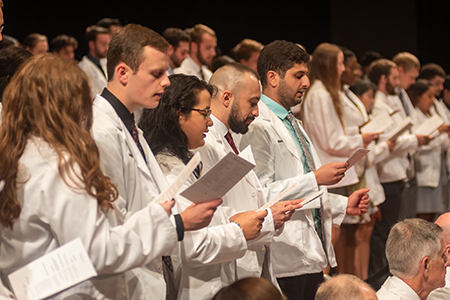 We strive to provide the most comprehensive and robust undergraduate medical school training in the areas of medical ethics, medical humanities, and medical jurisprudence that can be found in the United States.  
Medical students at WMed undergo education and training in medical ethics and professionalism in all four years of the curriculum. In the preclerkship phase of the curriculum, students are introduced to concepts in biomedical ethics, ethical decision-making, medical humanities, health law, health policy and economics, and professionalism. Core topics are taught interspersed through the first two years in the horizontally integrated Professions of Medicine course with vertical integration into basic science courses in a case-based format. From the outset of their training, our faculty guide first-year medical students in the development of their class oath which is subsequently used in their White Coat Ceremony and at Commencement.  Our state-of-the-art simulation center is used to assess students' ability to obtain informed consent, declare death and inform family members, and identify an appropriate surrogate decision-maker for an incapacitated patient.
In the clinical clerkship phase of the curriculum, further education in these topic areas are provided within clerkships as well as in stand-alone plenary sessions throughout the third year.  Professional behavior in the care of patients is assessed as a part of each student's clerkship evaluation.  Evaluators are asked to identify any critical deficiencies in ethical decision-making and/or professionalism which are then addressed through focused remediation.  Professional behavior expected of all medical students over the duration of their education is outlined in the WMed Code of Professional Conduct which is provided to medical students at orientation and included in the Medical Student Policy Manual.
If you would like to stay up to date about upcoming events hosted by our department, please contact us at ethics@wmed.edu.
Professions of Medicine 7 Course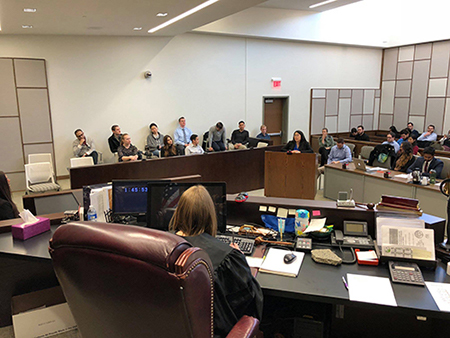 Finally, students participate in a week long capstone course at the end of their fourth year which is intended finish their preparation for residency.  Students have the ability to participate in several activities in the medical humanities, including a Reader's Theatre or a guided tour of the local art museum. Students role play a mock medical malpractice case at the local Probate Court.  They also hear a keynote address from a notable figure in medical ethics, medical humanities, or health law and practice providing advanced ethical analysis of challenging cases.
POM 7 Schedule