WMed is committed to population health by bridging medicine and public health. In the context of WMed's research, we define population health as the health of groups of people which is impacted by their shared experiences, relationships, access to resources, and the delivery of health care. 
At WMed, the implementation of population health research is currently focused in the field of maternal and child health. Our research explores how social, political, and economic factors contribute to health and health inequalities that impact the community. Together with community stakeholders, WMed is leading research and evaluation to improve birth outcomes and the health of women and children within Kalamazoo County. WMed is deeply committed to our work in population health research and its impact in restoring the health of marginalized populations. 
The goals of population health research are to inform strategies, monitor impact, and measure outcomes of services, processes, and programs in Kalamazoo County aimed at reducing infant mortality and improving birth outcomes.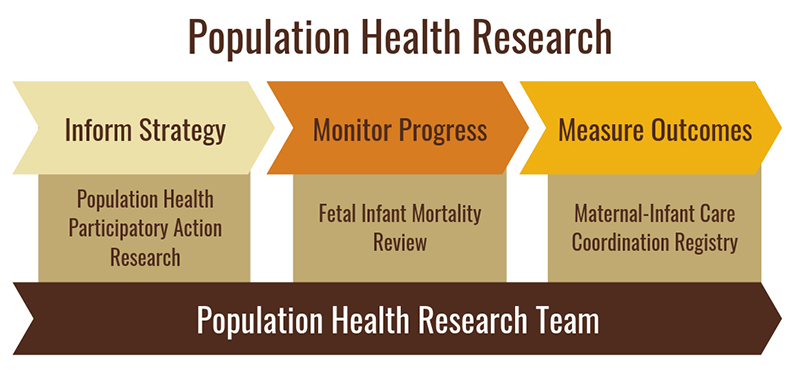 Impact
WMed's impact within the community ranges from specific interventions to cross-sector quality improvement processes. Below are some highlights of how WMed is making an impact with our population health research.
Participatory Action Research

WMed is conducting on-going, active research projects that engage both academic and community partners. Researchers are invited to join existing Cradle Research and create new opportunities in partnership with the Research and Data Team. Current research includes: 

Longitudinal Vital Records Dataset

The Longitudinal Vital Records Dataset is a multi-sector, integrated dataset that includes key maternal-infant health data from birth and death vital records (from 2006 to 2018), as well as participation in maternal-infant health programs and criminal justice involvement of parents (as victims or as perpetrators). (Because of its high sensitivity, this data is kept secure behind encrypted firewalls, and no individual level information is ever shared outside the research team.) Secondary analysis is conducted to (1) examine the interaction of socioeconomic status and race in predicting poor birth outcomes and infant mortality and (2) identify the key predictors of maternal and infant health, including the impact of public health interventions. This project is funded by Healthy Babies Healthy Start and United Way of Battle Creek & Kalamazoo Region.

Related Materials

Differential Pathways to Infant Health, by Race and by Income


Differential Survival: Do Racial and Socioeconomic Disparities Persist Beyond "Poor Birth Outcome"?


Healthy Babies Healthy Start - Kitagawa Analysis: Partitioning Infant Mortality Risk


HRSA Healthy Start National Training


Infant Mortality Trend Analysis, Kalamazoo County 2010-2015


The Interplay of Race, Socioeconomic Status and Neighborhood Upon Birth Outcomes


Perinatal Periods of Risk Analysis: Disentangling Race and Socioeconomic Status to Inform a Black Infant Mortality Community Action Initiative


Pregnancy, Crime and Infant Birth Outcomes


The Relationship Between Socioeconomic and Racial Factors, Both Individual and Community-Level, to Infant Birthweight


The Relative Contribution of Race and SES at the Individual and Community Levels, to Birth Weight


Mom's Health Experience Survey

The Mom's Health Experience Survey assesses the challenges that families in Kalamazoo face and how well maternal infant health programs and partners are taking care of these families. This survey recruited post-partum women from local health systems to provide an in-depth review of their social, psychological, and economic protective factors and barriers for healthy pregnancies. The information from this survey is used to improve the system of care for new parents and their infants and inform the strategy of maternal child health programs and services. This project is funded by Kalamazoo Healthy Babies Healthy Start and United Way of the Battle Creek & Kalamazoo Region. 

Related Materials

Home Visitation and the Care Continuum


Mothers' Reported Knowledge of, Practices, and Barriers to Engaging in Infant Safe Sleep


Patient-Provider Communication in the Kalamazoo Mom's Health Experience Survey Study


Patient and Provider Factors that Increase Disclosure of Psychosocial Problems 


Postpartum Reproductive Health Choices Vary by Race


Cradle Kalamazoo Community Voice Panel

The Community Voice Panel is a platform for community input and integration regarding the system of perinatal and infant care in Kalamazoo County. Families recruited from the community serve as members of this panel. The role of the families is to help provide feedback on aspects of current systems as well as proposed changes to these systems. Topics include: (1) access to medical care, (2) referrals and linkage to community resources, (3) perceptions of treatment received from medical and social service providers, and (4) information and education needed to empower healthy choices. This project is funded by Healthy Babies Healthy Start and United Way of Battle Creek & Kalamazoo Region.

Fetal Infant Mortality Review

WMed and Kalamazoo County Health & Community Services (KCHCS) co-lead the Fetal Infant Mortality Review (FIMR) in Kalamazoo County. This is one of the eleven FIMRs in the State of Michigan. The goal of FIMR is to develop continuous quality improvement (CQI) process and provide public health surveillance by analyzing fetal and infant mortality rates, identifying the socio-ecological context and causes of death, and developing strategies and promote action to prevent new deaths. What makes this FIMR unique is: (1) the incorporation of the family's perspective with the medical abstract, (2) the robust nature of the partners who participate in the review, (3) the method for reviewing each case, and (4) the mechanisms for action both locally and state-wide. This project is funded by United Way of the Battle Creek & Kalamazoo Region and the Michigan Department of Health & Human Services. For more information about the Kalamazoo County FIMR visit the Kalamazoo County Health & Community Services FIMR Webpage. 


The Kalamazoo County FIMR is a proud partner of the State of Michigan FIMR Network. The teams in the Michigan FIMR network are made up of diverse stakeholders who are invested in maternal and infant health at the local level. For more information about the strategies and achievements of the network, visit the Michigan FIMR Network webpage. 

The Kalamazoo County FIMR not only is leading strategy and processes within the state of Michigan, but also across the nation. The Kalamazoo County FIMR partners with the National Center for Fatality Review and Prevention (NCFRP). The NCFRP is a resource and data center for state and local Child Death Review (CDR) programs and fetal and infant mortality review (FIMR) programs across the country. For more information about their work, please visit the NCFRP website. 

WMed/Cradle Kalamazoo Collaboration

Collective Impact


Cradle Kalamazoo Research and Data Team

WMed leads a team of academic and community-based researchers to identify gaps, inform strategy, and measure the impact of maternal child health activities and services within the community.
 


Maternal-Infant Care Coordination Registry

One of Cradle Kalamazoo's objectives is to build a network of perinatal home visitation programs within Kalamazoo County. WMed in partnership with Kalamazoo County Health & Community Services (KCHCS) has organized a team of perinatal home visitation programs to coordinate care through team case reviews that incorporate quality improvement metrics. In addition to the perinatal home visitation program case records, the Care Coordination Registry also integrates referrals from a phone hotline, vital records birth certificate abstracts, and electronic health records. This Care Coordination Registry tracks perinatal women across time, across program, and across referral sources to reduce duplication, encourage coordinated case-sharing, update contact information for finding lost-to-contact cases, and provide case status logs for Cradle's weekly frontline case review meetings. This project is funded by Kalamazoo Healthy Babies Healthy Start and United Way of the Battle Creek & Kalamazoo Region. 


Cradle Kalamazoo Governance Board

As a key institution dedicated to the health and well-being of children within Kalamazoo County, WMed serves as a member overseeing the Cradle Kalamazoo initiative. The Governance Board serves as a platform for translating research into action through policy-making and systems change. As the Chair of the Research and Data Team and Senior Epidemiologist for Cradle Kalamazoo, Dr. Catherine Kothari serves as ex-officio and voting member of the Governance Board. Cradle Kalamazoo is a collective impact initiative dedicated to eliminating racial disparities in infant mortality within Kalamazoo County.


Cradle Kalamazoo Annual Meetings and Reports