WMed Health Pediatric Nephrology provides comprehensive multidisciplinary care and consultation for infants, children, adolescents, and young adults with kidney and urinary tract disorders. Our physicians have the expertise and latest technology to diagnose and treat whatever kidney or urinary tract issues your child is facing, especially rare conditions. Together, we will support you and your child through outpatient or home dialysis and, if needed, a pediatric kidney transplant.
The practice is open the third Friday of the month and is accepting new patients. For more information, visit us on the web at helendevoschildrens.org/kidney.
Our Location
WMed Health Pediatric Nephrology is located at 1000 Oakland Drive on the 1st floor in Kalamazoo, Michigan. Parking is available adjacent to the building. Our practice is a non-smoking environment. We strive to provide a clean environment for our patients.
Referrals
A referral by a healthcare provider may be required depending on your insurance coverage. To refer, call 269.337.6289 or fax 269.337.6547. To make a referral in Epic, "Add Order" at the bottom of the right of the progress note or within the Meds and Orders section, search for the word "referral" and the Epic referral name HDVCH Ped Nephrology.
Our Providers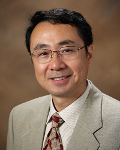 Yi Cai, MD, PhD