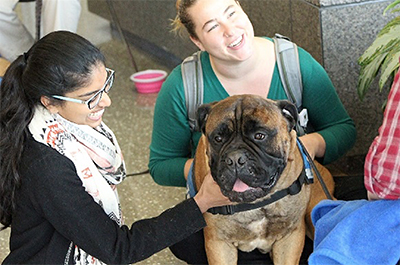 We are committed to fostering a culture of wellness that will follow students throughout their careers. The medical school offers countless wellness-themed events throughout the year, including wellness breaks before each exam, and Wellness Week, an entire week dedicated to wellness activities. During these events, students engage with wellness activities and programming like healthy snacks, movie nights, wellness seminars, and even therapy dogs! We also have a fitness facility for students to use with treadmills, weight-lifting machines, and a group exercise room.
Several students are members of the Wellness Committee, a student-led, administration-supported group that aims to provide wellness education, programming, and activities to our students. The Wellness Committee has identified six facets of wellness: Physical, social, mental, financial, spiritual-cultural, and community wellness.
Additionally, there are several student interest groups at the medical school that incorporate student wellness into their overall focus and mission.
Counseling Services
Limited, confidential personal counseling services are available to students with school-related adjustment issues such as anxiety or situational depression. Independent licensed counselors serving as consultants to the medical school provide the sessions, and are bound by confidentiality. Students may confidentially make appointments by contacting the care managers of the WMed Clinics at 269.337.6540. 
Private Practice Counselors
Private practice counselors in the community are available to provide counseling and mental health services to students.
Child and Family Psychological Services, PC

Child & Family Psychological Services, PC, is a local counseling service that has a staff of more than 30 counselors in two separate locations in the Kalamazoo/Portage area. They may be contacted at:

5340 Holiday Terrace
Kalamazoo, MI 49009
269.372.4140

1662 East Centre Avenue
Portage, MI 49002
269.321.8564

The Counseling Center at Family & Children Services

The Counseling Center at Family & Children Services is another local counseling resource that has a staff of eight counselors in three separate locations in the Kalamazoo/Portage/Battle Creek areas. They may be contacted at:

1608 Lake Street
Kalamazoo, MI 49001
269.344.0202

1302 West Milham
Portage, MI 49024
269.344.0202

 

778 West Columbia Avenue
Battle Creek, MI 49015
269.965.3247
Substance Abuse Counseling
Behavioral Health Services at Western Michigan University is a licensed and accredited outpatient substance use and behavioral health disorder treatment provider. Behavioral Health Services offers a specialty program in alcohol and drug abuse, provides substance use assessment and evaluation services, and consultation, information, and education regarding addiction. These services are available to students for a fee. Students may access Behavioral Health Services by calling 269.387.8230.   
Behavioral Health Services has two locations in Kalamazoo:
On-campus

1000 Oakland Dr., 3rd Floor
Kalamazoo MI 49008 USA
269.387.8230

Kings Edge

834 King Highway
Kalamazoo, MI 49001 USA
More information regarding this service is available at https://wmich.edu/unifiedclinics/about/behavioral.