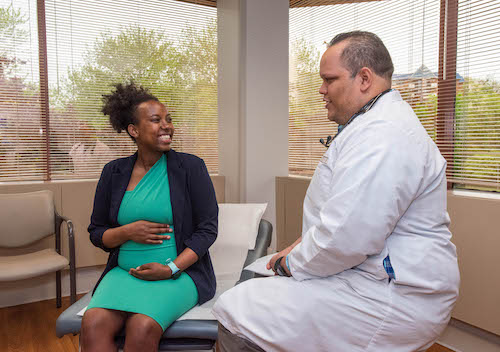 The maternity care practice at WMed Health is a specialty practice within the Department of Family and Community Medicine. It is located at 555 W. Crosstown Parkway in Kalamazoo.
We provide multidisciplinary prenatal care for mothers throughout their pregnancy, delivery and beyond. Routine maternity services include:
Pre-pregnancy planning
Complete prenatal care, beginning in first trimester
Delivery at Bronson Methodist Hospital

Care for you and your newborn during hospitalization

Follow up outpatient care for Mom and Baby together

Siblings and partners can become patients as well!
Additional Maternity Care services include:
Management of chronic diseases during pregnancy (e.g. high blood pressure, diabetes, depression)
Medications for Opioid Use Disorder (MOUD) in pregnancy
Contraception management (e.g. pills, injection, implant, IUD, sterilization)
Our Location
WMed Health Family Medicine - Crosstown Parkway is located at 555 West Crosstown Parkway on the 2nd floor in Kalamazoo, Michigan. Parking is available adjacent to the building. Our practice is a non-smoking environment. We strive to provide a clean environment for our patients.
Fees and Insurance
WMed Health Family Medicine - Crosstown Parkway participates with many insurance providers, including Medicaid and Medicaid Health Plans. Before your first visit, check with your insurance company to understand what services will be paid for by your insurance plan. For every appointment, you will need to bring your insurance card(s). Co-pays are due at the time of service and accepted forms of payment are cash, check, MasterCard, Visa, and Discover. If you have questions, our patient financial counselors are ready to help you. Please call our Billing Department at 269.337.4460.
Our Providers