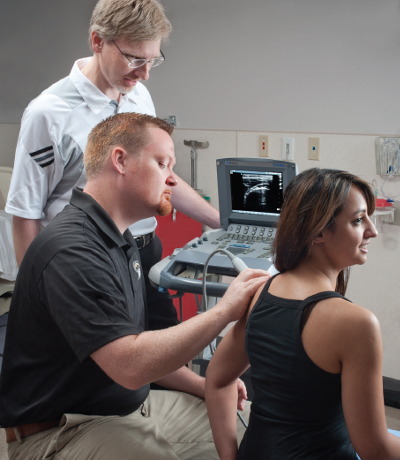 WMed Health Orthopaedic Surgery and Sports Medicine offers surgical and non-surgical care for adults and children. We treat acute injuries and chronic conditions that relate to the entire musculoskeletal system including the spine, all bones and joints, muscles, tendons, and ligaments.
Our care team is committed to deliver individualized and evidence-based care that includes shared decision-making with every patient. We have faculty physicians that are nationally and internationally recognized because of their patient care excellence and academic teaching expertise. Through teaching of resident physicians, medical students, and other learners our faculty physicians are incorporating new ideas and a culture of discovery into our day-to-day practice to provide you the best care possible.
All of our providers are currently accepting new patients and have dedicated their time to be available to see any patient within 48 business hours from the time of appointment request or referral. Some appointments may require a physician referral depending on insurance requirements.
Services and procedures we provide include:
Arthritis treatment
Arthroscopy and other minimally invasive surgery
Cast and brace treatment
Clubfoot treatment
Fracture care
Joint and tendon injections
Joint replacement surgery

Knee alignment surgery and ACL reconstruction
Musculoskeletal diagnostic ultrasound
Pediatric and adolescent orthopaedic conditions
Shoulder reconstruction and rotator cuff disorders
Spinal conditions, surgery and treatment
Sports medicine and athlete care
Our Location
WMed Health Orthopaedic Surgery and Sports Medicine is located at 1000 Oakland Drive on the 1st floor in Kalamazoo, Michigan. Parking is available adjacent to the building. Our practice is a non-smoking environment. We strive to provide a clean environment for our patients.
Fees and Insurance
WMed Health Orthopaedic Surgery and Sports Medicine participates with many insurance providers, including Medicaid and Medicaid Health Plans. Before you first visit, check with your insurance company to understand what services will be paid for by your insurance plan. For every appointment, you will need to bring your insurance card(s). Co-pays are due at the time of service and accepted forms of payment are cash, check, MasterCard, Visa, and Discover. If you have questions, our patient financial counselors we are ready to help you. Please call our Billing Department at 269.337.4460.
Referrals
A referral by a healthcare provider may be required depending on your insurance coverage. To refer, call 269.337.6289 or fax 269.337.6547. To make a referral in Epic, "Add Order" at the bottom of the right of the progress note or within the Meds and Orders section, search for the word "referral" and the Epic referral name WMed Orthopedic Surgery.
Our Providers
Resident Physicians