Our alumni are making a difference in the lives of people across the U.S. and Canada. Click on the map below to see where our graduates have gone on to work (blue) or receive further fellowship training (red).
Our Alumni
When our graduates leave WMed, they are prepared and equipped to be medical practitioners of the 21st century. Take a look at where our graduates have taken their next step after concluding their training.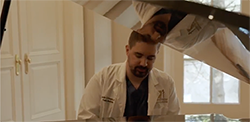 "WMed shaped me into the physician I am. I would not change my educational experience for anything. The faculty and colleagues I was surrounded by, made learning and working such a joy. I will always be grateful for everything WMed has given me." - Justin DiDonato, MD, Class of 2019.
Take a moment and check out a video of Dr. DiDonato's musical talents or listen to "American Doctor," a song written by Class of 2020 alumnus, Dr. Jeffrey Laman, as a tribute to our healthcare workers on the front lines of the COVID-19 pandemic.