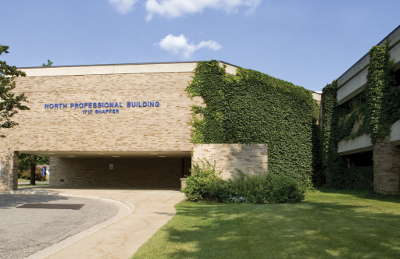 At WMed Health, we are a teaching facility that offers a team approach to your care. Your care team includes resident physicians who are seeking advanced training, experienced faculty physicians, nurses, ancillary services staff, medical students, and other learners. 
Welcome to Our Practices
When you become a patient at WMed Health, during your first visit we will provide you with a new patient packet that includes all the information you need to know about us.
Medical Records
Your medical record is confidential. We will not talk about you condition with anyone without your permission. If you wish to release information from your medical records, complete the Patient Medical Records Request Form and return it to our practice.
MyChart
MyChart is a free and secure tool that gives you access to parts of your medical record through your own computer or smartphone. You can view your medical information, make appointments, renew prescriptions, receive test results, pay your bills, and much more. To sign up, our Registration staff will assist you. MyChart is available for WMed Health patients in English and Spanish.
Rights and Responsibilities 
Your rights and responsibilities as a patient are very important to your care. If you have questions regarding any of these rights and responsibilities, please speak with any staff member. 
Notice of Privacy Practices
You have a right to privacy as a patient. You will receive a Notice of Privacy Practices when you become a patient. This notice outlines our practices with regard to protecting your medical information and identity.
Notice of Nondiscrimination for Patients and the Public
We comply with applicable Federal civil rights laws and do not discriminate on the basis of race, color, national origin, sex, age, or disability. You will receive a Notice of Nondiscrimination for Patients and the Public when you become a patient. We provide free aids and services to people with disabilities to communicate effectively with us and free language services to people whose primary language is not English.
Social Work Services
Our medical social workers are available to assist you with:
Coordination of Care
Prescription Assistance
Community Resources
WMed is proud to be a part of the National Heart, Lung, and Blood Institute (NHLBI) Breathe Better Network Breathe Better Network. Since our initial subcontract with NHLBI in 2018, we have been guided by the COPD National Action Plan in bringing awareness and resources to those in our community, so people living with or affected by COPD. Find more information on our Think COPD webpage.

The National Heart, Lung, and Blood Institute's (NHLBI) COPD Learn More Breathe Better® program supports WMed's outreach and educational efforts.
Laboratory and Radiology Services
Outpatient laboratory and radiology services at WMed Health are provided at 1000 Oakland Drive for patients whose tests are ordered by a WMed Health physician and we also accept lab or radiology orders from outside providers.
The Laboratory is located on the Concourse Level and is open Monday through Friday from 8:00 a.m. to 5:00 p.m. You can reach our Laboratory Department at 269.337.4480.
The Radiology Department is located just off the first floor lobby and is open Monday through Friday from 8:00 a.m. to 5:00 p.m. You can reach our Radiology Department at 269.337.6232.