The White Coat Ceremony is a time-honored tradition and a rite of passage for entering MD students as they begin their medical education and their journey to become a physician. The White Coat Ceremony presents each entering medical student with their first white coat, a WMed branded stethoscope, tuning fork, reflex hammer, personal protective equipment (PPE), and a host of WMed branded apparel needed for their coursework and clinical applications.
Serving as a white coat sponsor is an exciting and rewarding way to support a WMed student as they begin their medical education. Alumni, parents, corporate partners, foundations, WMed employees, and community friends are invited to sponsor one or more WMed students for their White Coat Ceremony.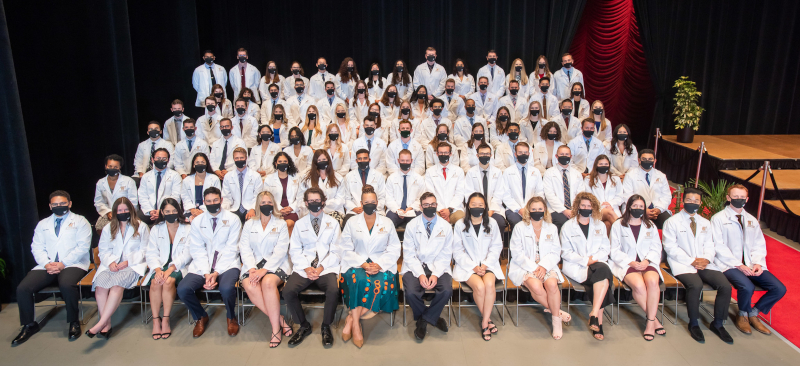 Sponsoring an entering medical student for their white coat ceremony often results in a special bond between the donor and student. Donors are asked to write a personal note of congratulations to the student they are sponsoring and this note is placed in the pocket of the student's white coat. The student then receives this special greeting at the ceremony immediately following the presentation of their white coat.
The 2022 White Coat Ceremony will be held on Saturday, September 10, at 2:00 p.m. at Miller Auditorium. Donors are invited to attend the ceremony and meet their students afterwards at the White Coat Ceremony Reception taking place immediately following the ceremony at the WMed W.E. Upjohn M.D. Campus.
Sponsorship Levels
Sponsorships begin at $500 per student, with the option to support more than one student at the levels listed below.
$10,000 - Platinum Sponsorship to Support 20 Students
$5,000 - Gold Sponsorship to Support 10 Students
$2,500 - Silver Sponsorship to Support 5 Students
$1,500 - Bronze Sponsorship to Support 3 Students
$1,000 - Copper Sponsorship to Support 2 Students
$500 - Classic Sponsorship to Support 1 Student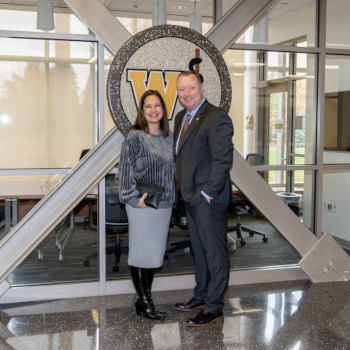 Fundraising Co-Chairs
For the 2022 White Coat Sponsorship Program, WMed is proud to have Mr. Steve and Mrs. Amy McKiddy as fundraising co-chairs. In their own words, "Having served as White Coat donors in prior years, we have come to appreciate how rewarding it is to sponsor entering MD students. We have seen first-hand how impactful it is to provide support and encouragement to these amazing students as they begin their medical studies."
Steve and Amy would like to thank all the donors for their generosity, and wish our incoming students the best of luck in their first year of medical school.
White Coat Sponsorship Testimonial
"I have developed meaningful relationships with each of the students I sponsored throughout my tenure at WMed. In fact, I just had dinner earlier this month with a former white coat student I sponsored four years ago!" - Dr. Mark Loehrke, Associate Professor, Emeritus, Department of Medicine, June, 2021
Make A Gift
Please send your check payable to: WMU Homer Stryker M.D. School of Medicine and mail it to: WMU Homer Stryker School of Medicine, Office of Development and Alumni Affairs, 1000 Oakland Drive, Kalamazoo, MI 49008. Please write, "White Coat Sponsor" in the memo section of your check.