We invite you to participate in this historic event to celebrate our first decade of accomplishments at WMU Homer Stryker M.D. School of Medicine. WMed Live is a hybrid event – both live and virtual – that will take place on Thursday, May 27, 2021, from 3:30 to 5:00 p.m. WMed Health clinics and student schedules will be adjusted so students, residents, faculty, and staff can tune in.
This dynamic gathering will mark three key milestones:
The 10th anniversary of WMed,
Honoring our Founding Dean, Dr. Hal B. Jenson, for his decade of innovative leadership and his upcoming retirement, and
Giving opportunities to advance the mission of the medical school.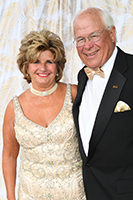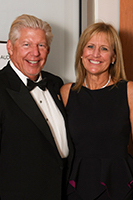 Event Co-Chairs and Hosts 
At WMed, we proudly recognize Kalamazoo philanthropists and medical school benefactors Ronda E. Stryker and William D. Johnston along with William U. Parfet and Barbara A. Parfet who are co-chairs and hosts for this historic event. We thank them for their leadership in chairing this special anniversary event.
The Details
Countdown to WMed Live 2021

Registration
Register to attend this monumental event and share your well-wishes, congratulatory message, or fond memories of Dr. Hal B. Jenson through the buttons below as we jointly wish him a joyful and relaxing retirement. 
Stay Tuned
Please make sure to check back as we will provide regular updates as WMed Live 2021 draws closer. If you want to tune in to the livestream for the event, it will be available here on the afternoon of May 27.