WMed student Christine Maisano honored as the 2022 Outstanding Medical Student in Michigan by the Michigan Academy of Family Physicians
After she graduated from Wheaton College in 2002 with an English degree, Christine Maisano spent more than a decade working as a science writer, a career that led to her launching her own business and gaining extensive knowledge of the latest advances in biomedical research.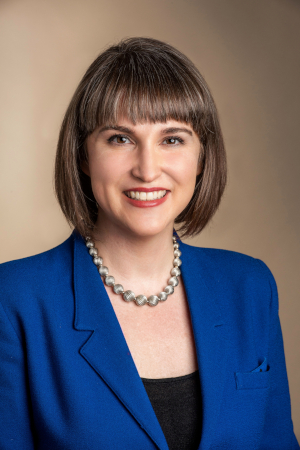 Later, after she moved to Colorado with her husband and son, she continued her work as a writer, became certified as a medical assistant, and worked at Mercy Regional Medical Center in Durango where she got the opportunity to provide care in several specialty clinics.
"I spent a good portion of my time in the family medicine clinic and it felt like the right fit," Maisano said recently. "I liked the physicians and the way they approached patient care and really thinking about everything."
As she navigated her career path, Maisano said the thought of applying for medical school was always on her radar but she struggled to figure out the logistics of that kind of move to pursue a career as a doctor.
By 2019, though, she and her family took the leap and made the trek from Colorado to Kalamazoo where Maisano began her studies at WMed as a member of the MD Class of 2023.
Since her arrival at the medical school a little less than three years ago, Maisano's passion for family medicine has not waned and that commitment led to her recently being named the 2022 Outstanding Medical Student in Michigan by the Michigan Academy of Family Physicians (MAFP).
The award recognizes student members of the MAFP for academic excellence, leadership, service, and dedication to pursuing a career as a family physician. This summer, Maisano will be recognized at the MAFP conference and expo on Mackinac Island.
"The overarching feeling I have is I feel very honored and one of the things that has the most meaning to me is that the award came about because of a nomination from the faculty at WMed," Maisano said. "I like to think of myself as someone who has a commitment to family medicine and it is gratifying to know that was recognized by faculty."
Peter Ziemkowski, MD, an associate professor emeritus in the Department of Family and Community Medicine who retired from WMed in April, nominated Maisano for the MAFP honor.
Dr. Ziemkowski said he interviewed Maisano when she was an applicant to WMed and he recalled how her life story and non-traditional path to medical school, as well as her interest in family medicine, really stood out to him. It was during that process, he said, that he realized Maisano was an experienced scientific writer and that he had relied on many of her writings for years during his time as a physician.
"It was hard to fit in all of her accomplishments," Dr. Ziemkowski said of Maisano's nomination that he submitted to the MAFP. "She is a really remarkable person and she has been a rock for her class and she has been one of their anchors, and to me that's really very important."
Maisano said she loves family medicine because of the strong relationships that physicians in the specialty are able to forge with patients throughout those patients' lives. During her time as a medical assistant in Durango, she said she had the opportunity to work alongside three doctors who had been in practice for 30 or more years and were now seeing the grandchildren of patients whose babies they had delivered years before.
"I just think those relationships are really important," Maisano said. "Family medicine physicians can occupy that space as a trusted resource for their patients and communities."
As she prepares for her final year at WMed, Maisano said her time at the medical school has served to remind her that she made the right decision in 2019 to begin the pursuit of a career in medicine.
"I really enjoy taking care of patients and for me that has always been the most rewarding part, and that continues," she said. "I love clinical medicine, I love working with people, I love longitudinal care, and I think one of my greatest passions in family medicine is supporting patients to prevent disease and live their healthiest lives."
As she celebrates her recent honor from the MAFP, Maisano said the award and her time at WMed would not have been possible without her husband and son.
"Medical school can be hard, and I know I wouldn't be where I am without their support and encouragement," Maisano said."