At WMed, we are committed to providing a four-year curriculum in our Psychiatry Residency Program that prepares you to be an excellent psychiatrist who is well-prepared and focused on providing care that is patient-centered. Our curriculum offers a broad range of experiences aimed at fostering your success.
Training Year 1
In your first month at WMed, you will go through an orientation period during which you will have a smaller clinical caseload and concentrated didactics to ensure a strong start to your training. Your first assignment will be inpatient psychiatry, which will enable you to get acquainted with your classmates and faculty in the Department of Psychiatry. Together, our residents make daily rounds and attend weekly team meetings. Service sizes are small so faculty members have more time to teach, and average resident caseloads are four to six patients with a cap of eight. You will also be assigned a general supervisor/mentor with whom you will meet weekly. Residents are required to attend morning conferences and have protected time for weekly didactic sessions emphasizing psychopathology and psychopharmacology. Your primary care months will be divided between Internal Medicine and Family Practice, but you may also select Pediatrics. First-year residents have extended day duty one day per week and weekend hospital duty one weekend day per month.
Training Year 2
With a year of experience behind you, you will be given more autonomy in your second year of residency. The Adolescent rotation includes inpatient and partial hospitalization care, and you will attend team meetings, family meetings, and participate in group therapy sessions. The hospital consultation-liaison service will expose you to new clinical problems, requires more focused assessments, and regular interaction with medical colleagues. On Emergency Psychiatry, you will gain valuable experience with emergency assessments and crisis intervention; you also will become more familiar with community resources. Second-year didactics include Theories of Human Development, Principles of Neural Science, Behavioral Therapies, and Research in Psychiatry. The Psychodynamic Case Conference and work with your individual supervisor will help prepare you for doing psychotherapy in the Outpatient Clinic. Second-year residents have night call one weekday per week, one weekend call day per month, and gain experience supervising first-year residents. 
Training Year 3
Your yearlong experience in the Outpatient Clinic takes place primarily in the WMed Psychiatry Clinic. You will have a nicely appointed office and see patients of all ages and from diverse backgrounds. The majority of your patients will be scheduled for one-hour sessions to enable you to get to know them well and have time to learn psychotherapy. Experienced faculty supervisors observe the majority of sessions via a remote audio-visual system which has the capacity to record sessions for later supervision, and residents must discuss each encounter with the supervisor.  In addition to seeing patients in the WMed Psychiatry Clinic you will also see patients in the Veteran's Administration Hospital Outpatient Clinic one day per week and patients in the Post-Traumatic Stress Disorders Clinic one-half day per week. You will also see patients at Community Mental Health one half-day per week for three months to gain experience working with the chronically mentally ill population in a public-sector setting. A weekly multi-disciplinary Practice of Psychiatry seminar will allow you to learn about the practice of psychiatry, discuss challenging cases, and gain experience with quality assurance/ patient safety practices. Didactics emphasize psychotherapies, neuropsychiatric disorders, and administrative psychiatry. Night and weekend call is less frequent.
Training Year 4
Your fourth year of residency is designed to prepare you for your transition to practice. You will do rotations in the core clinical areas of Inpatient, Consultation-Liaison, and Addiction Psychiatry. You also are given considerable autonomy on these rotations and are often assigned to work with residents and/or medical students. There are seven months of electives, which include: 
Kalamazoo Psychiatric Hospital
ECT
Sleep Health
Assertive Community Treatment
Eating Disorders
Teaching
Research, and Forensic Psychiatry 
Throughout the year, senior residents continue to see a reduced caseload of patients in the Psychiatry Outpatient Clinic, which affords the opportunity to follow selected patients longitudinally for as long as two years.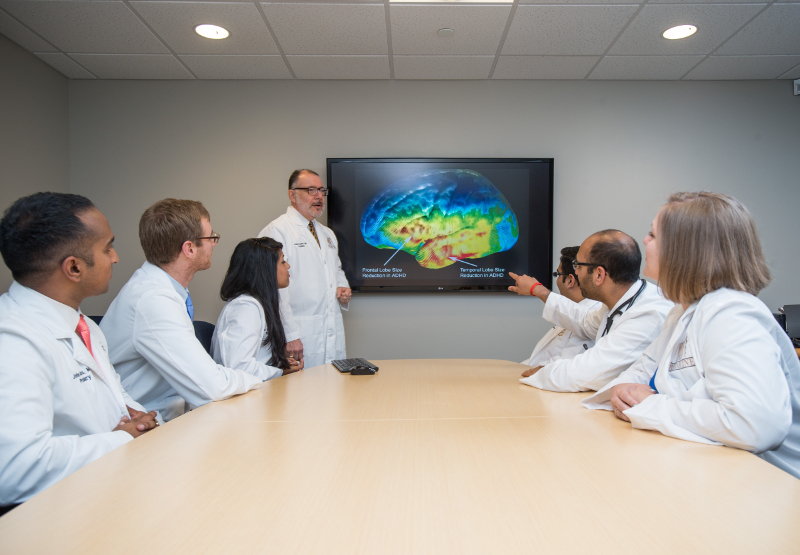 Didactics
Training Year 1
Orientation to Inpatient Psychiatry
The Initial Interview
Psychopharmacology & Other Somatic Therapies
Psychopathology: Overview of DSM-V Mental Disorders
Emergency Psychiatry
How to Read Medical Literature
Introduction to Culture in Psychiatry
Motivational Interviewing
Brief Therapies: Family Therapy
Introduction to Psychological Testing
Intro to Therapeutic Modalities
Sleep Disorders
Supportive Therapy
Exam Study Course
Teaching Psychiatry
Training Year 2
Theories of Human Development
Research in Psychiatry
Principles of Neural Science
Psychotherapy Continuous Case Conference
Psychopharmacology & Other Somatic Therapies
Residents as Teachers
Culture in Psychiatry
Genetic Considerations in Psychopharmacology
Overview of Psychodynamic Psychotherapy
Psychopathology: Overview of DSM-V Mental Disorders
Ethics
Intro in CBT
Practice of Psychiatry
Psychpharmacology: Women's Behavioral Health
Exam Study Course
Training Year 3
The Neurosciences: Neuropsychiatric Disorders
Brief Therapies: Cognitive/Behavioral Therapy (CBT)
Brief Therapies: Family Therapy
Brief Therapies: Group Therapy
Psychopharmacology & Other Somatic Therapies
Culture in Psychiatry
Psychotherapy Continuous Care Conference
Administrative Psychiatry
Geriatric Psychiatry
Transition to Practice
Forensic Psychiatry
Ethics
Short-Term Psychotherapy Modules
Residents as Teachers
Practice of Psychiatry Seminar
History of Psychiatry
Research in Psychiatry
Exam Study Course
Training Year 4
Transition to Psychiatry Practice
Psychopharmacology & Other Somatic Therapies
Geriatric Psychiatry
Exam Study Course
Conferences
Together, we have a rich assortment of case-based conferences and discussion groups. Some are multi-disciplinary to enhance your knowledge and sharpen your clinical skills.
Conference Schedule
Tuesday
Faculty Interview (first Tuesday of the month):  Faculty rotate interviewing patients in front of the resident group. The group discusses interviewing techniques, diagnosis, formulation, and treatment plans.
Psychiatry Grand Rounds (second Tuesday of the month): Faculty, senior residents, and outside guest speakers do presentations on a variety of topics for a multi-disciplinary audience.
Journal Club (third Tuesday of the month): Residents take turns presenting a summary of a journal article of their choosing followed by a discussion among residents, faculty, and medical students. The discussion includes an assessment of research design and methodology.
Psychiatry Clinical Case Conference (fourth Tuesday of the month): Residents and faculty do formal presentations of interesting and challenging cases followed by a multi-disciplinary discussion among audience participants.
Wednesday
Psychotherapy Continuous Case Conference (weekly): Using progress notes and tapes of their psycho-dynamically oriented sessions with patients, residents take turns presenting their work to the group of residents and several faculty members, followed by discussion of psychodynamic theory and techniques.
Thursday
Post-Call Conference (weekly): Residents take turns presenting cases they've worked up and a faculty member leads a discussion with residents and students about the presentation, assessment and treatment.
Friday 
Exam Study Group (weekly): These sessions are designed to help residents prepare for in-training and board certification examinations. Residents are assigned weekly readings in a standard textbook of psychiatry and meet with each other and faculty members to discuss the material and review test questions.
Practice of Psychiatry Conference (weekly): A multi-disciplinary group, including third-year residents, which explores issues related to the ambulatory practice of psychiatry. Discussions of resident and faculty cases are regular agenda items, as well as quality improvement and patient safety issues.