Message from the Med-Peds Co-Chiefs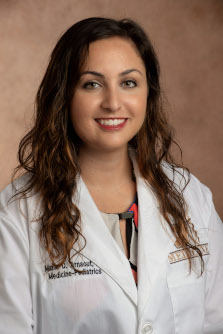 Hello and welcome! This is Marie and Minh, or "M&Ms" as we like to call ourselves, and we are the current chiefs of the Med-Peds program here atWMed. We would like to thank you for taking time to learn about our program. Our residents come from all walks of life and regions of the world. Although each of us chose WMed for a variety of reasons, we all agree that WMed has become our second family.
For me, I grew up in Michigan. I love its natural beauty during all four seasons, from admiring the tulips in the Spring, going to the lakes in the Summer, apple picking in the Fall to skiing in the Winter. When it comes to residency, it was an easy decision for me to join WMed not only because of its location but also because I was driven by its Global Health track, POCUS training, osteopathic curriculum, and above all, the close-knit bond between the residents during my interview day. (Marie)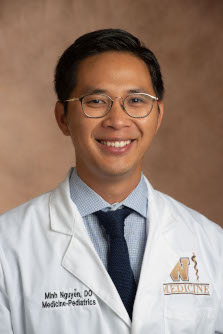 Meanwhile, I grew up in Vietnam and moved to Chicago at the age of 16. I obtained all of my secondary education in the Chicagoland area. Like my co-chief, WMed stood out for very similar reasons. I was particularly impressed with the fellowship matches of WMED residents (Minh).
Since starting residency, we gained a new family here at WMed while taking a closer step to our professional aspirations, outpatient med-peds (Marie) and allergy/immunology (Minh). During our time here, we have worked globally in Madagascar (Marie) and Peru (Minh) as well as serving our own community through administering the COVID19 vaccine and volunteering at local shelters. We have received support and many opportunities to represent our program at various national conferences and publications in PubMed-indexed journals. Last but not least, each of us rescued a puppy, Jolie, and Georgia, who also became part of the WMed Med-Peds family.
We know that choosing a residency program is a challenging process. However, we strongly believe that our program offers the foundation and guidance to achieve your goals and become your best self. We look forward to hearing from you!
Sincerely,
M&Ms