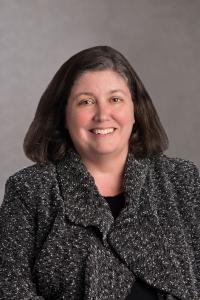 Lisa E Graves, MD
Associate Dean, Office of the Dean
Chair, Department of Family and Community Medicine
Professor, Department of Family and Community Medicine
---
Contact Information
Patient Care Related:
Family Medicine - Crosstown Parkway, 269.337.4600
Family Medicine - FHC, 269.349.2641
Family Medicine - Oakland, 269.337.6500
Biosketch
Lisa Graves, MD, is a family physician. She is a graduate of the University of Ottawa, Ontario, Canada. She completed her residency in family medicine and enhanced skills training in maternal and child health at McGill University.  At McGill she occupied a number of positions including clerkship chair.  From 2010-2013, she was the associate dean for Undergraduate Medical Education at the Northern Ontario School of Medicine. She is currently the associate dean for Faculty Affairs at Western Michigan University Homer Stryker M.D. School of Medicine where she is also a professor in the Department of Family and Community Medicine.  Her clinical, teaching, and research interests include medical education, maternal and child health, and vulnerable populations.