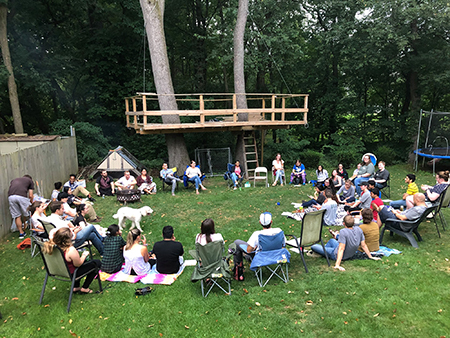 We take great pride in developing community events to advance the ethical and humanistic care of patients. We also provide extensive support to student organizations at WMed who organize special events including:
Bioethics on Tap: A small group discussion in a casual setting.
Bioethics at the Movies: Regular screenings of films with discussion afterwards.
Bioethics by Bonfire: An annual event welcoming our newest medical students and prompting reflection about the nature of medicine and ethical conflicts arising within medicine.
Book Club: Co-sponsored by the WMU Center for Ethics in Society
Special Grand Rounds: Speakers for this event have included Eva Moses Kor, a Holocaust survivor and victim of Josef Mendele's twin experimentation at Auschwitz
If you would like to stay up to date about upcoming events hosted by our department, please contact us at ethics@wmed.edu.
WMU Medical Humanities Conference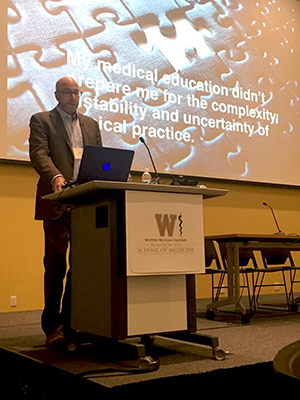 In partnership with the Western Michigan University Medical Humanities Workgroup, led by Dr. Fritz Allhoff and Mr. David Charlton, WMed co-hosts the annual Western Michigan University Medical Humanities Conference.
The conference showcases innovative approaches to the arts, languages, and philosophies that guide society in a rapidly changing medical landscape. This gathering is convened yearly to discuss perspectives on the intersection of the practice of the humanities and the practice of medicine.
Medicine, as a human-centered practice that uses both traditional influences and cutting-edge technology to serve its patients, must work constantly to mitigate the tension between the abstractions that allow its practitioners to focus on addressing disease and the holistic practices that allow its patients to thrive. Each year, the conference includes presentations, workshops, and panels involving history of medicine, arts in medicine, health narratives, medical ethics, medical anthropology, religious approaches to health, health education, and conceptions of wellness, as well as multidisciplinary approaches to the medical humanities.