There is so much to discover while living and working in Battle Creek. Located in the heart of southwest Michigan, Battle Creek is small enough to be friendly and inviting, yet big enough to provide lots of activities, events, and opportunities to explore.
Downtowns are becoming an increasingly attractive place to live – and the same is true in downtown Battle Creek. From young professionals to retirees, each finds a dynamic downtown that fits a unique need. Short commutes, breathtaking views and cultural conveniences are just some of the reasons young professionals, empty-nesters, and families are seeking the downtown living experience.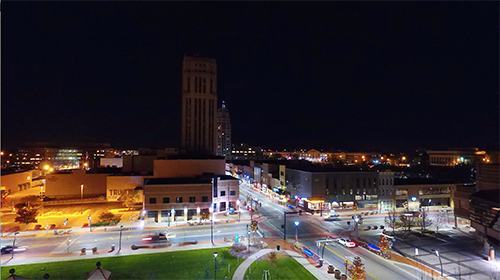 In Battle Creek, you'll find a community that's not only passionate about its downtown but its surrounding areas as well.  A community that is focused on bringing the best in retail, dining, living, and businesses to its residents. You will find art galleries, a farmers' market, a 17-mile linear park, coffee shops, restaurants, and much more in and around downtown. There are also great events including outdoor concerts, Vibe@5 concert series, the Cereal Festival, outdoor movies, Art Walks, and so much more. Whether you jog along our 26-mile Linear Park, enjoy sporting or cultural events, or gaze skyward during the annual hot air balloon championship, living in Battle Creek promotes well-being and vitality.
Job opportunities are available from a diverse base of companies with locations in Battle Creek, and not just cereal or food companies. Battle Creek is home to many key industries including aerospace and aviation, automotive and manufacturing, food and agriculture, IT and technology, as well as military and defense.
Battle Creek is also home to award-winning healthcare facilities and doctors, which continues to grow in services, facilities, and resources for our community. Plus, resources nearby to ensure a great quality of life – including public, private and higher education institutions, and fitness facilities.
Major health care sites include:
Greater Calhoun County is home to over 60 arts and cultural organizations and hundreds of talented artists, furniture makers, dancers, dabblers, professionals, and amateurs alike. Whether you like the symphony or the art museum, public concerts, or gatherings, you''ll find something to enjoy in Battle Creek.
Battle Creek is conveniently located along major Interstates and highways between larger cities including Detroit and Chicago, and Grand Rapids. Close to home, you'll find you're close to Lake Michigan beaches, numerous inland lakes, ethnic, and community festivals, concerts, and countless outdoor activities.
\