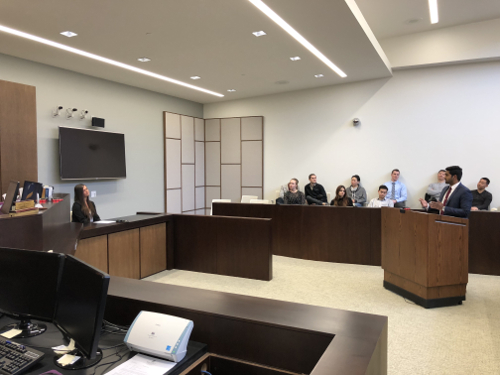 On the afternoon of Wednesday, March 14, fourth-year students McKenzie Akers, Daphne Sy and and Gus Zervoudakis were less than 48 hours from Match Day, so close to learning – finally – where they would be headed for residency training.
And yet, they found themselves that day inside a Kalamazoo County courtroom, Akers seated comfortably at the judge's bench as Sy and Zervoudakis, and other classmates, grilled witnesses who took their turns in the chair at the witness stand.
The exercise might have been a far cry from what the students' will be doing in their next step as resident physicians but the mock trial, which involved the litigation of a malpractice lawsuit, was all part of Profession of Medicine 7, a capstone Medical Ethics, Humanities and Law course for the medical school's inaugural Class of 2018 that was held during Match Week.
"I think the mock trial was the highlight of the week," said Dr. Mike Redinger, co-chief of the medical school's Program in Medical Ethics, Humanities and Law, who was the course director for POM 7 along with fellow program co-chief Dr. Tyler Gibb. "It was definitely unique and allowed them to be creative."
The 48 students in the medical school's inaugural class took part in several exercises for POM 7, including case reviews and preparation for the mock trial. They also attended courses that included Medical Humanities in Creative Writing, Medical Humanities in Film, Medical Humanities in Theater and Medical Humanities in Visual Arts.
Drs. Gibb and Redinger said the aim of the capstone course was to provide a bookend to the students' four years of professional development at WMed with instruction on the use of advanced ethical theory with medical cases that were complex and involved multiple concepts.
"One thing I was really impressed with were the case studies and the students' analyses were very robust," Dr. Redinger said. "The depth of their case analyses and how much they had integrated from their learning during their four years here was impressive. I think they are going to walk into residency and be very prepared to help their teams work through cases because they've had this background."
The POM 7 course was the result of work that Drs. Gibb and Redinger began in 2015 after they were tasked by Dr. Hal B. Jenson, the medical school's founding dean, to direct the course and building a curriculum around health law and applicable medical standards with components of medical humanities.
"Part of ethics is stepping into someone else's shoes," Dr. Gibb said. "We did that in a very real way forcing the students to put on the hat of a lawyer during the mock trial. It was part of seeing a different perspective of some of the issues we've seen and wading through those complex issues. We came away very happy with the way they performed."
Dr. Gibb said he believed the POM 7 course brought the fourth-year students a welcomed distraction as they awaited Match Day – Friday, March 16 – and all that that day would bring.
The POM 7 course wrapped on Thursday, March 15, one day before Match Day with the students taking part in a deans' forum and a lecture from Dr. David Fleming, the immediate past president of the American College of Physicians. 
In making the POM 7 course a reality for the medical school's fourth-year students, Drs. Gibb and Redinger said they were thankful for the support they received from several people and organizations, including the WMU-Cooley Law School Moot Court Advocacy Team, the Kalamazoo Institute of Arts, and Kalamazoo County Probate Judge Curtis J. Bell.