Students from the MD Class of 2027 recently got the chance to give back to the community during the annual Day of Service.
Day of Service took place over a period of three days – August 26, 28, and 30 – as students from the Class of 2027 spent time helping at more than a dozen sites throughout Kalamazoo and Southwest Michigan. The students were able to assist several local organizations, including:
Cheff Therapeutic Riding Center
El Concilio
Friendship Village
Heritage Community of Kalamazoo
Kalamazoo CASA
Kalamazoo Gospel Ministries

Kalamazoo Literacy Council
Kalamazoo Valley Habitat for Humanity
Ministry with Community
WMed Asthma Clinic
YMCA of Greater Kalamazoo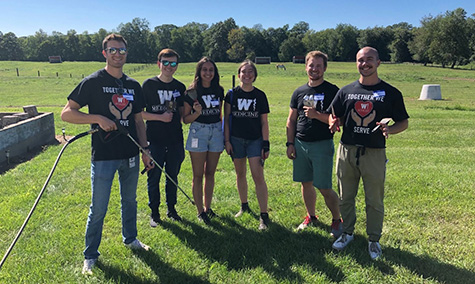 Day of Service focuses on the building of partnerships with community organizations and the development of teamwork skills and leadership. Students gain first-hand and up-close experience with the needs of the Kalamazoo community and the projects reflect the medical school's commitment to community service.
Next up, in October, the first-year students will take part in the capstone event for Medical First Responder training. The all-day event, which is held at the Kalamazoo Regional Fire Training Center and consists of several emergency scenarios, including a mass-casualty incident, a vehicle extrication, and rappelling down an elevator shaft.
First-year WMed students spend seven weeks on medical first responder training, which culminates with the MFR capstone event. The training qualifies students for state and national certification as medical first responders.