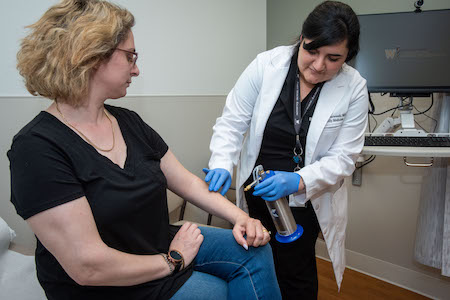 As the weather warms up and a Michigan summer lies ahead, WMed Health providers will offer a free skin cancer spot check clinic on Thursday, June 1.  
Members of the community who are concerned about the health of their skin are invited to the clinic from 6 to 8 p.m. at WMed Health Family Medicine, 555 W. Crosstown Parkway in Kalamazoo. The event is free and open to the public. No appointments are needed and you do not need to be a current patient at WMed to attend. Patients will be seen on a first-come, first-served basis. Patients of all ages are welcome, and health insurance is not needed.  
"As summer comes to Michigan, we all love to get outside and enjoy the weather," said Kristi VanDerKolk, MD, a family medicine physician at WMed Health, an assistant professor in WMed's Department of Family and Community Medicine and the department's residency program director. "It's important that we take care of ourselves and our skin. Thinking about prevention is important and detecting new lesions is the first step toward treatment. Early treatment can prevent the spreading or growing of lesions."  
WMed Health physicians expect to be able to examine lumps, bumps, moles, rashes, warts, precancer, skin cancer and scars. They will give patients advice on the next best steps.  
"Persons of all skin types are at risk of skin cancer," Dr. VanDerKolk said. "I would encourage anybody who is worried about a spot on their skin to get it checked out by a qualified health professional."  
Attendees will receive sunscreen for taking part in the event.  
The Centers for Disease Control and Prevention's Division of Cancer Prevention and Control offers the following tips to stay healthy as summer weather approaches:
Stay in the shade.
Wear clothing that covers your arms and legs.
Wear a hat with a wide brim to shade your face, head, ears, and neck.
Wear sunglasses that wrap around and block both UVA and UVB rays.
Use a broad-spectrum sunscreen with a sun protection factor (SPF) of 15 or higher