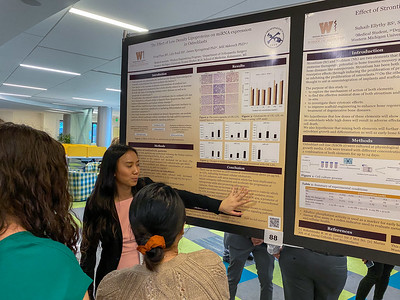 The 41st Annual Kalamazoo Community Medical and Health Sciences Research Day will be held in May at the W.E. Upjohn M.D. Campus.
The two-day, in-person event will take place May 3-4 and the theme for this year's Research Day is "Promoting Equity, Celebrating Research, Transforming Health." Research Day will showcase efforts at WMed to promote diversity, inclusion, and equity in science and healthcare on topics including basic and translational science, clinical research, public health, social and behavioral sciences, quality improvement, and education-related research.
The event will consist of a series of oral presentations, poster sessions, and workshops with the first poster session taking place on May 3 from 5:00 to 7:00 p.m. and a second poster session, as well as oral presentations, scheduled for May 4 from 8:00 a.m. to 12:30 p.m.
Adil Akkouch, PhD, who serves as chair of the organizing committee for Research Day, said attendees will be able to view Research Day abstracts and speak with presenters during the first poster session on May 3. That will be followed on May 4 by a Plenary talk, oral presentations, and a second poster session. 
The keynote speaker for Research Day 2023 will be Melissa B. Davis, PhD, the newly appointed director of the Institute of Translational Genomic Medicine at Morehouse School of Medicine and Distinguished Investigator with the Georgia Research Alliance. She also serves as scientific director of the International Center for the Study of Breast Cancer Subtypes (ICSBCS), interim director of Health Equity for the Englander Institute of Precision Medicine and associate professor of Cell and Developmental Biology in the Department of Surgery at Weill Cornell Medicine in New York. She is a Cancer Ethnicity Scholar, co-leading the PolyEthnic-1000 project at New York Genome Center.
Dr. Davis has published groundbreaking findings that established a new lens to study associations of biological factors in cancer outcomes as related to genetic ancestry. Specifically, she has discovered links between African ancestry and tumor burdens that have a disproportionate burden in people across the African diaspora. Dr. Davis is a pioneer in the field of "disparities genomics," with a specific focus in breast cancer expanding into prostate and gynecological cancers in recent years. 
Any questions about this year's Research Day activities can be submitted to the WMed Office of Research at office.research@wmed.edu.