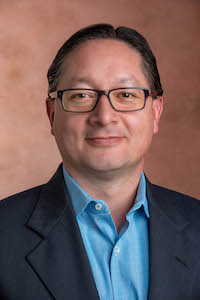 A passionate medical educator with a focus on continuous improvement and a strong commitment to diversity, equity and inclusion has been named the medical school's new associate dean for Undergraduate Medical Education.
Gustavo Patino, MD, PhD, joined the medical school in a limited capacity in January and transitioned into his position full time on March 20.
In the newly created role, Dr. Patino will work together with the senior associate dean of Academic Affairs and the assistant deans for UME to develop, implement, and oversee the renewal of the medical school's MD degree program including program operations, student performance, program evaluation, faculty recruitment, clinical site recruitment, Liaison Committee on Medical Education accreditation and collaboration with faculty members across the curriculum. The medical school's assistant dean for Foundations, assistant dean for Clinical Applications and assistant dean for Clinical Competency and Interprofessional Education report to the associate dean for UME.
Dr. Patino joins the medical school from Oakland University William Beaumont School of Medicine, where he was an associate professor in the Department of Foundational Medical Studies and the Department of Neurology.
"Trying to join WMed has been on my radar for a really long time and I'm thankful for this really amazing opportunity," Dr. Patino said. "I am very excited to join." 
A native of Colombia, Dr. Patino earned his MD degree from the Universidad Nacional de Colombia Medical School, in Bogota, Colombia. He trained in the neurology residency at Escuela Colombiana de Medicina and went on to attend University of Michigan. There, he earned a master's degree and a PhD in Neuroscience and completed a postdoctoral fellowship in the Department of Neurology.
In addition to delivering academic sessions in multiple disciplines, Dr. Patino has served as a course director across the continuum of medical education and has served on several institutional oversight bodies and pursued medical education research. He has experience in focusing on continuous improvement and applying best practices. In his nearly two decades of research, he has focused on basic mechanisms of neurological diseases, genetics and medical education.
"With medical education I'm most interested in assessment," Dr. Patino said. "How do we improve assessment? How can we better measure the things that are important to us? I aim to make sure students have curriculum development and linking the application of statistical methods into those research endeavors."
In his limited time in his new role, Dr. Patino said he has been preparing for the LCME accreditation visit scheduled in April. He aims to support the medical school's improved curriculum.
"It's been a lot of learning the nitty-gritty of the program so I'm able to be a helpful participant in the LCME accreditation process. I've enjoyed being able to meet everyone and understand exactly what they are doing and what challenges I can help with. The assistant deans in UME have been doing this for a while and they really know their stuff."
Dr. Patino said he has gotten to learn much about WMed through interactions with faculty members and have been impressed with the medical school's curriculum, decompressed schedule, robust scholarship and the caliber of WMed alumni who he encountered in the Beaumont Health System.
Looking ahead to his time at WMed, Dr. Patino said he has strong commitments to diversity, equity and inclusion and plans to focus on building clinical and humanistic competencies through active learning, faculty support and alignment between assessments and objectives.
Dr. Patino and his wife, Aubrey, have two daughters, and the family has enjoyed being in closer proximity to extended family members in the Kalamazoo area, where Aubrey was raised. They enjoy doing activities as a family, going to the movies and spending time in the Traverse City and Petoskey areas in the summer.