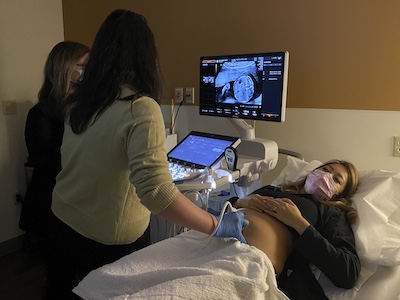 WMed Health is expanding its maternal-fetal medicine practice to serve more patients in the Kalamazoo area, and the practice is harnessing new technology to provide better imaging to patients.
The new maternal-fetal medicine offerings will deliver the highest quality, evidence-based care as a part of a collaborative team to women experiencing high-risk pregnancies while providing an immersive learning experience for residents and medical students, said Brian Nielsen, MD, MS, FACOG, who started his role as the medical school's obstetrics and gynecology residency program director in June 2022.
The Accreditation Council of Graduate Medical Education (ACGME) requires the residency program director to maintain ongoing clinical activity in his or her subspecialty in addition to the other administrative and educational duties they perform. The residency also has identified deficiencies in obstetrical and gynecologic ultrasound education, and the medical school's residents need additional exposure to antepartum high-risk care, Dr. Nielsen said.
Women experiencing complicated pregnancies may need maternal-fetal medicine specialists at many points in their care, Dr. Nielsen said. Patients who have a medical history, obstetrical history, or other complications such as maternal cardiac disease, end-stage renal disease, patients with organ transplants, higher-order multiple gestations, and Type 1 diabetes generally are referred to a maternal-fetal medicine specialist during their pregnancy. WMed Health's practice provides preconception counseling, genetic screening, fetal imaging, and intrapartum or postpartum inpatient consultations. Unique to the Kalamazoo area, WMed Health Maternal-Fetal Medicine will accept patients for prenatal care, and will not just be a consultative service. 
"Coming to see us can be very anxiety-provoking," Dr. Nielsen said. "Nobody wants to see a high-risk doctor. When you hear from your OB-GYN that something might be wrong it can be distressing to patients."
Currently, patients who have high-risk pregnancies and need to see a maternal fetal medicine provider face a three-to-four-week backlog for an appointment. With the expanded practice, patients will be contacted within one business day of a referral to schedule an appointment at WMed Health's Maternal-Fetal Medicine practice. Since opening in mid-February, the expanded practice has seen patients referred from as far away as Marshall.
A new GE Voluson Expert 22 ultrasound machine, the only one available in Michigan outside of the University of Michigan in Ann Arbor, allows providers at WMed Health to perform ultrasounds with increased details and quality.  The new machine lets providers see hearts, diaphragms, and other basic anatomy in the first trimester, allowing doctors to alert parents of potential issues sooner than most other machines. The machine can perform transabdominal and transvaginal 3D/4D imaging, which can help providers diagnose a fetus with a malformation, such as a neural tube defect or complex brain anomaly. Kelly McFanin, a maternal-fetal medicine sonographer, joined WMed Health in January to facilitate the use of the equipment.
Starting this year, WMed's obstetrics and gynecology residents will receive enhanced ultrasound training, which will include taking a four-week obstetric and gynecologic imaging rotation and will have opportunities to scan patients directly. Residents will remain under the guidance of Dr. Nielsen and McFanin, who will perform the more complicated portions of exams. 
As WMed Health's maternal-fetal medicine service expands, residents will see consultations and high-risk prenatal care appointments with an attending physician. Attending physicians will continue providing direct patient care.
As a bonus, maternal-fetal medicine patients now can have all maternity care performed at WMed Health, 1000 Oakland Drive in Kalamazoo, including seeing an obstetrician and gynecologist and having labs drawn.  
"There's a need in the community for it and the education helps our residents serve more patients," Dr. Nielsen said.
Patients and physicians should call 269.337.6075 for more information.