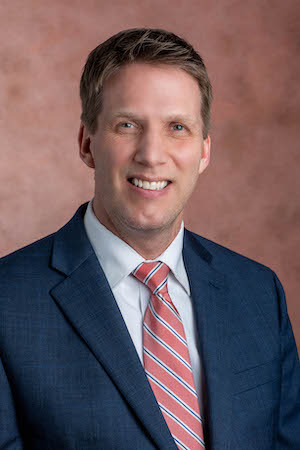 A physician lauded for his research in schizophrenia and other mental disorders has been tapped to lead the medical school's Department of Psychiatry and expand mental health care services to more people in Kalamazoo.
Eric D. Achtyes, MD, MS, DFAPA, began his role as chair of the Department of Psychiatry Jan. 31.
Prior to joining the medical school, Dr. Achtyes served as Director of the Division of Psychiatry and Behavioral Medicine at Michigan State University College of Human Medicine, where he oversaw the education, clinical, research and service missions of the Department of Psychiatry for MSU-CHM in Grand Rapids. He also served as Behavioral Health Medical Director at Network180, the community mental health authority for Kent County, where he developed a behavioral health home model of care collaborating with Network180 and Cherry Health.
Dr. Achtyes graduated from Calvin College in 1997 with a bachelor's degree in chemistry. He went on to earn a master's degree in chemistry from the University of Washington in 1998. He earned his MD degree from the University of Michigan Medical School in 2003. He was in Kalamazoo as a transitional year resident at Michigan State University/Kalamazoo Center for Medical Studies in 2003 to 2004. 
Dr. Achtyes completed his residency training in Boston at Massachusetts General Hospital, McLean Hospital adult psychiatry resident training program and Harvard Medical School. He was the chief resident for the adult drug and alcohol treatment program at McLean Hospital. He returned to Michigan in 2007 to join Pine Rest Christian Mental Health Services and MSU-CHM.
Dr. Achtyes serves in leadership positions nationally and has published extensively, currently serving as an associate editor for the Schizophrenia section of the journal Frontiers in Psychiatry. He has experience as an advisor and mentor.
Academically, Dr. Achtyes is an active researcher and is involved in numerous ongoing research projects. He has built two research programs from the ground up, including one that focuses on the care of individuals living with schizophrenia and another that focuses on clinical depression. He has led dozens of National Institutes of Health and industry-funded studies and has brought in approximately $40 million in external funding to support the work. 
In 2016, Dr. Achtyes helped spearhead a successful application for Pine Rest and MSU to join the National Network of Depression Centers (NNDC), a group of 28 leading academic centers that study and improve care for people suffering from depressive disorders and serves on the Biomarker task force for the NNDC. He has published more than 75 peer-reviewed papers. He is co-chair of the Program Committee for the Michigan Psychiatric Society and led that organization as President. Nationally, he serves as a Distinguished Fellow of the American Psychiatric Association and is on the continuing medical education committee for the American Society of Clinical Psychopharmacology.
Dr. Achtyes was recognized for his excellent clinical, teaching and research work by being selected as the Physician of the Year by the National Alliance on Mental Illness Michigan Chapter in 2022. His work at Network180 managing the Substance Abuse and Mental Health Services Association Medicaid block grant that provides first-episode psychosis care to 10 million residents of Michigan led to the designation, he said.
Dr. Achtyes worked with Dr. Madhavi Nagalla, who joined the medical school's Department of Psychiatry as residency program director in January 2022, and she mentioned the department would soon be hiring a chair for the department. Dr. Achtyes said it appealed to him since he was familiar with Kalamazoo, which had built a medical school since he completed his residency training here.
"I'm delighted to be here," Dr. Achtyes said. "We serve as the center of psychiatric care in the Kalamazoo area in our department, so we have an important role to play within the community and for people living here."
Dr Achtyes said he's eager to get involved in research at WMed, and was excited to learn about the infrastructure the medical school has for clinical trials. He has been involved in the beginning stages of a strategic plan for research the medical school is working on with a consultant. He said he is buoyed by Kalamazoo's rich history of medical innovation.
"This is a city that is steeped in a history of medical innovation," Dr. Achtyes said. "I'm excited to be in a place where research is part of the cultural identity of the city and the medical school. That is something I'm very excited about."
Dr. Achtyes said his experience in a psychiatry rotation as a third-year medical student made him realize how much he enjoyed learning about that field of medicine, and now, he said, he would never want to do anything else.
"Patient care is an incredibly important and valuable thing for me," Dr Achtyes said. "I love working with people and doing it in a helping capacity. I always wanted to use my love of science to try to help people. Medicine is a fantastic way to combine a love of science and the desire to help people."
Because he knows how much a four- or six-week rotation can change the course of a medical student's career, Dr. Achtyes said he advocates for opportunities for medical students to focus on mental health and psychiatry even if they don't intend to become a psychiatrist. He credits his mentors who were generous with their time and resources and took time to build relationships with the physicians they taught. He said he wants to emulate that for students and residents at WMed.
"Even for the majority of students who don't choose psychiatry for their career, it's so important for them to understand mental health, mental illness and mental well-being," Dr. Achtyes said. "Throughout their career, every physician will see patients with psychiatric disorders and conditions. I want them to feel empowered that those conditions are something we can treat, that they can consult with a psychiatrist when they feel like they need some assistance. I would like to see that occur for all of WMed's students."
Dr. Achtyes said his immediate goals for his department involve supporting his department, ensuring it is fully staffed and its providers feel well-supported coming out of the COVID-19 pandemic. He aims to establish a clinical research program and work with community partners such as Integrated Services of Kalamazoo to enhance the current research happening in schizophrenia.
Dr. Achtyes said he envisions building subspecialty fellowships in psychiatry and would like the department to be able to offer additional treatments such as Transcranial Magnetic Stimulation and intravenous or intranasal Ketamine for treatment-resistant depression. 
"We want to build increased access to mental healthcare for the community," Dr. Achtyes said. "We can build on the strength of the Kalamazoo Collaborative Care Project and use the expertise we have as mental health professionals to touch more lives and help more people."
Dr. Achtyes and his wife Katie, a mental health social worker, have three children. They enjoy visiting Lake Michigan in the summer, downhill skiing in the winter and spending time at his family's cottage in the Montague area.