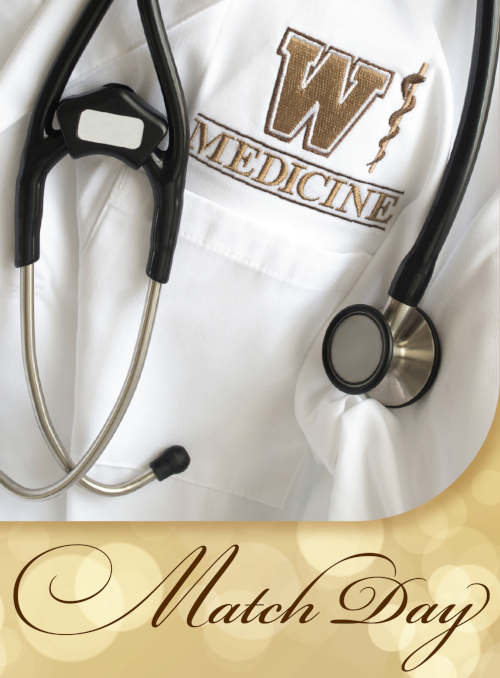 Students from the MD Class of 2023 will have the opportunity next month to celebrate Match Day and gather with family, friends, and the medical school community as they learn where they will be headed for residency training.
This year's festivities will be held in-person at the Radisson Plaza Hotel at Kalamazoo Center on Friday, March 17, from 10:30 a.m. to 2:00 p.m.
Students are being given tickets for three guests to attend the event. Meanwhile, the WMed community – faculty, staff, residents, and first-, second-, and third-year students – is invited to tune in via the WMed Facebook page and Facebook Live, or to join the livestream watch parties in the Oakland Drive Campus Media Room, W.E. Upjohn M.D. Campus Auditorium or in the Psychiatry Library in the Ascension Borgess North Professional Building. Following Match Day, the Match Day map will be on display in the W.E. Upjohn M.D. Campus café.
"Match Day is one of the most exciting events for our medical students," said Alex Carlson, director of Student Life and Well-Being. "These students have devoted so much to this, and at this celebration, they will see the reward of their dedication."
Match Day is a time-honored event that is held every March at medical schools across the country. The celebration is a culmination for WMed's fourth-year students as the course of their medical careers will be determined with the opening of an envelope and they learn where they will spend the next three or more years in residency training.
Students and their guests at the event on March 17 will be able to partake in light snacks and they will hear remarks from WMed Dean Paula M. Termuhlen, MD; Kevin Kavanaugh, MD, assistant dean for Career Development, and M4 Ainsley McWilliams. Just before it's time to open their Match Day envelopes at noon, they'll also get to see this year's Match Day envelope video, developed by the Class of 2023 Student Council leaders.
There will be plenty of opportunities for students and their guests to capture photos at the Radisson with WMed backdrops and the Match Day pin map. Students will also be able to take the stage to share their Match results with guests at the event, as well as on Facebook Live.
For more information and updates about Match Day, please visit med.wmich.edu/matchday.