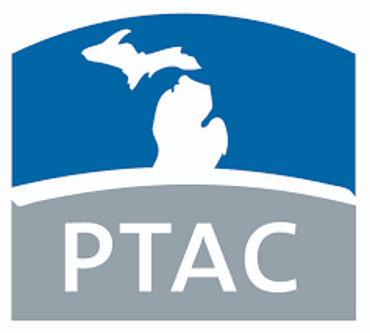 The Southwest Michigan Procurement Technical Assistance Center (PTAC) is a longtime friend of the WMed Innovation Center. When the Innovation Center first opened in 2003, the PTAC occupied a two-person office. Over the years, the PTAC has moved to a couple different offices around the Kalamazoo area. It is our pleasure to announce that the PTAC is back! As of November 1, 2022, the PTAC is again occupying a two-person office at the Innovation Center and offering support to small businesses and entrepreneurs seeking government contract opportunities.
A government contractor is a private company that produces goods and/or services for public government agencies. Contractors submit proposals and quotes for solicitations put out by the government, and they become government prime contractors when they win awards with government entities on any level: federal, state, or local. Within proposals and quotes, there are tools to determine if the government is seeking lowest price technically acceptable (the majority of the time), or if the award will have criteria more valuable than price. Just like government agencies, government contractors come in all different sizes. As with all things related to government, figuring things out can be confusing. That is where the PTAC comes in.
The PTAC is a nationwide program that assists businesses who want to sell products or services to the federal, state, or local government. PTAC programs include one-on-one consulting, training courses, subcontracting assistance, custom bid matching, historical pricing resources, and more. Their service is free of charge and available to businesses in the seven counties of Southwest Michigan. More information about the Southwest Michigan PTAC can be found at https://www.ptac4nemi.org/.
"We are delighted that Southwest Michigan PTAC is once again to be housed within the WMed Innovation Center," PTAC Counselors Kim Bourner and Theresa Chaney-Huggett said. "The legend of the partnership between WMed and PTAC, with our complimentary program missions, is a historical story which continues to flourish. We look forward to serving both existing clients and potential new client businesses also housed at the WMed Innovation Center. We believe this move is an opportunity for us to be in closer proximity to business partners so we might provide information and resources to reduce perceived (and real) barriers to government contracting. We look forward to meeting you and learning about the dynamic and innovative companies located here."
The PTAC consultants are experienced professionals. Bourner has been with the PTAC office for over 14 years providing one-on-one consulting and leading training programs. Chaney-Huggett is a more recent hire, but she too has spent decades in the business world assisting companies of all sizes to capitalize on opportunities. Bourner and Chaney-Huggett understand the ins and outs of government contracting at all levels and share that information freely. Some popular training sessions they have hosted in Kalamazoo include a PTAC Orientation Class as well as topics such as How to Write a Capability Statement, and PTAC Marketing & Research: Mining for Opportunities.
"The PTAC is a wonderful organization that offers entrepreneurs and small companies the ability to access lucrative government contracts," said Sandra Cochrane, assistant dean of the Innovation Center. "By reducing the confusion associated with the bidding process and helping solve problems early, the PTAC helps level the playing field for its clients. In this way, the PTAC and the Innovation Center are in alignment, trying to give small companies a leg up."
By working closely with the PTAC, the Innovation Center is able to help companies access valuable, free support. It's a win-win for both organizations. The PTAC is able to access a large meeting space for its events that includes free parking, as well as smaller conference rooms for one-on-one sessions. The Innovation Center is able to bring new entrepreneurs into the building to see that is available, and to provide on-site programs convenient to existing clients. Perhaps it's such a great partnership because, at the bottom of it all, both the PTAC and the Innovation Center are dedicated to helping entrepreneurs. With a common mission uniting them, it is no wonder that the two organizations work so well together.