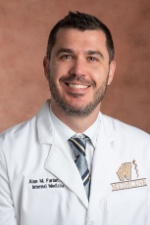 Alan Michel Furlan, MD
Instructor, Department of Medicine
---
Contact Information
Patient Care Related:
Internal Medicine, 269.337.6300
Biosketch
Alan M. Furlan, MD, is a resident physician in the Internal Medicine Residency Program at Western Michigan University Homer Stryker M.D. School of Medicine in Kalamazoo, Michigan. He is a graduate of FAMERP (faculdade de Medicina de São José do Rio Preto, São Paulo, Brazil. He completed his Internal Medicine and Hematology training in Brazil in 2017 on the same university campus. From 2017 to 2022, he worked as a hematologist, internist, and critical care physician in different hospitals and outpatient care in Blumenau Santa Catarina, and performed a role that involved participation and coordination of one of the Santa Catarina state blood banks. His clinical and research interests include internal medicine, critical care, pneumology, hematology, oncology-focused for blood malignancies, and palliative care.
Education and Training

Residency 2025, Internal Medicine, Western Michigan University Homer Stryker M.D. School of Medicine
Fellowship 2017, Hematology and Hemotherapy, Hospital de Base de São José do Rio Preto
Residency 2015, Internal Medicine, Hospital de Base de São José do Rio Preto
MD 2012, Faculdade de Medicina de São José do Rio Preto

Research

pneumology
Palliative Care
Internal Medicine
Hematology
Critical care medicine