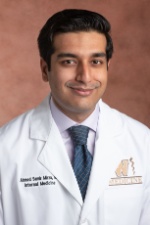 Ahmed Samir Mirza, MBBS
Instructor, Department of Medicine
---
Contact Information
Patient Care Related:
Internal Medicine, 269.337.6300
Biosketch
Ahmed Samir Mirza, MD, is a resident physician with the Internal Medicine Residency Program at Western Michigan University Homer Stryker M.D. School of Medicine. He received his medical degree from Dow Medical College in Karachi, Pakistan in 2019. During and after his medical school, he was closely involved in research projects culminating in several publications including case reports, cross-sectional studies, review articles, and meta-analyses. After graduating, he worked as a house officer (intern) at Civil Hospital Karachi, one of the largest tertiary care hospitals in the city, where his passion for providing care for underserved populations took root. It gave him firsthand insight into the inequities in medicine. He then moved to Lubbock, Texas in 2021, where he shadowed hospital medicine doctors which led him to develop his passion for Internal Medicine even further and get more clinical experience in the US medical system. He also worked as a virtual medical scribe in Texas for out-of-state providers and then served as a coach, tasked with the responsibility of training new scribes.
Education and Training

Residency 2025, Internal Medicine, Western Michigan University Homer Stryker M.D. School of Medicine
MBBS 2019, Dow Medical College

Research

Underserved patient populations

Publications

Mirza S.A., Sheikh A.A.E., Barbera M., Ijaz Z., Javaid M.A., Shekhar R., Pal S., Sheikh A.B. COVID-19 and the Endocrine System: A Review of the Current Information and Misinformation Infectious Disease Reports. 2022;14(2):184-197.

Garg I., Hanif H., Javed N., Abbas R., Mirza S., Javaid M.A., Pal S., Shekhar R., Sheikh A.B. COVID-19 Vaccine Hesitancy in the LGBTQ+ Population: A systematic review Infectious Disease Reports. 2021;13(4):872-887.

Marsia S., Khan A., Khan M., Ahmed S., Hayat J., Minhas A.M.K., Mirza S., Asmi N., Constantin J. Heart transplantation after the circulatory death; The ethical dilemma Indian Heart Journal. 2018;70:S442-S445.