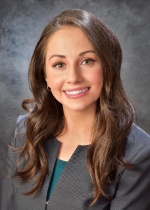 Laura L Ashack, MD
Clinical Assistant Professor, Department of Medicine
---
Biosketch
Laura Ashack, MD, is a radiation oncologist with West Michigan Cancer Center, Kalamazoo, Michigan. She is a graduate of the University of Michigan, Ann Arbor, Michigan. She earned her medical degree from Michigan State University College of Human Medicine, East Lansing, Michigan, where she was inducted into the Alpha Omega Alpha Honor Medical Society. Dr. Ashack completed a transitional year internship in Indianapolis, Indiana, and a radiation oncology residency at Northwestern University Feinberg School of Medicine in Chicago, Illinois. During residency, Dr. Ashack was nominated for multiple awards, including the Drs. AA and David Goldsmith Award given to a resident who demonstrates genuine humanness and empathy towards their patients. She also received the Susan Perlman Award, given to a senior trainee who best exemplifies academic excellence, special leadership skills, and compassion for patients. Dr. Ashack specializes in breast cancer, gynecologic malignancies, and skin cancer. She is also interested in improving health disparities in the wider community.
Education and Training

Residency 2021, Radiation Oncology, Northwestern University
Transitional Internship 2017, Ascension St. Vincent Hospital
MD 2016, Michigan State University
BS 2012, Biology, University of Michigan-Ann Arbor

Research

Social Determinants of Health
Radiation Oncology

Publications

Bajaj A., Ashack L.L. In Regard to Wu et al: "The Declining Residency Applicant Pool: A Multi-Institutional Medical Student Survey to Identify Precipitating Factors" Advances in Radiation Oncology. 2021;6

Polineni P., Ashack L., Kalapurakal J., Morgans A., VanderWeele D., Kundu S., Hussain M., Meeks J., Sachdev S. Trimodality Treatment for Muscle-Invasive Bladder Cancer: An Institutional Experience Advances in Radiation Oncology. 2021;6(5)

Ashack K.A., Kuritza V., Visconti M.J., Ashack L. Dermatologic Sequelae Associated with Radiation Therapy American Journal of Clinical Dermatology. 2020;21(4):541-555.

Ashack K.A., Ashack L.L., Schlager E., Ashack R.J. Angiosarcoma following treatment of basal cell carcinoma: a report of two cases International Journal of Dermatology. 2018;57(4):496-498.