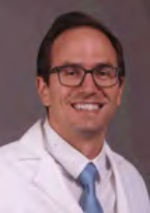 Frank C Soltys, MD
Clinical Assistant Professor, Department of Pediatric and Adolescent Medicine
---
Biosketch
Frank Soltys, MD, is a board-certified pediatrician and practicing neonatologist. He earned his medical degree from Creighton University School of Medicine, Omaha, Nebraska, after which he completed his residency at Indiana University School of Medicine/Riley Hospital for Children, Indianapolis, Indiana, followed by a fellowship at Washington University in St. Louis School of Medicine/St. Louis Children's Hospital. Throughout training, he held multiple positions including recruitment chair, transport liaison, and rotation improvement chair. His clinical and research interests include palliative care in the NICU, medical education, and simulation.
Education and Training

Fellowship 2021, Neonatal-Perinatal Medicine, School of Medicine, Washington University in St Louis
Residency 2018, Pediatrics, School of Medicine, Indiana University
MD 2015, School of Medicine, Creighton University
BA 2010, Pre-Medicine, Westminster College

Research

neonatal palliative care
neonatal medicine
Intensive Care, Neonatal

Publications

Soltys F.C., Spilo K., Politi M.C. The content and quality of publicly available information about congenital diaphragmatic hernia: Descriptive study JMIR Pediatrics and Parenting. 2021;4(4)

Soltys F., Philpott-Streiff S.E., Fuzzell L., Politi M.C. The importance of shared decision-making in the neonatal intensive care unit Journal of Perinatology. 2020;40(3):504-509.

Soltys F., Harmon H. A preterm neonate with severe respiratory distress and hydrops NeoReviews. 2017;18(9):e549-e551.