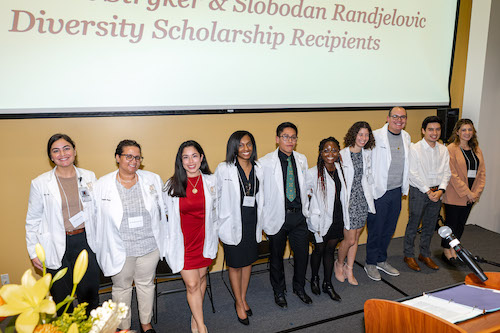 When she thinks about the path she has taken to get to WMed, Alejandra Solis Sanchez is grateful.
She immigrated to California from El Salvador at 16 and, while still perfecting her English, learned how to take college entrance exams and apply to schools. She became the first person in her immediate family to move out of her familial home and attend an American university. 
Solis Sanchez's drive and determination remained front of mind as she moved more than 2,000 miles from her family to enroll in the medical school's Hal B. Jenson M.D. Master of Science in Biomedical Science degree program. The nine-month program prepares students for health sciences careers or admission to the school's medical degree program. Upon completion of the program, she will join WMed's Class of 2026 as a medical student.
Solis Sanchez and other students in the master's degree program each receive a full-tuition scholarship from the medical school to cover the cost of the one-year program. Now, she is among more than 20 students who have received additional support from a $5 million gift plan from philanthropist Jon L. Stryker and his husband, Slobodan Randjelović. Stryker, president and founder of the Arcus Foundation and grandson of WMed's namesake Dr. Homer Stryker, and Randjelović, an architect, designer and photographer, have stepped forward to support the medical school's aspirations of significantly increasing the diversity of the student body at WMed. The generous gift will be given over the course of five years. 
In Solis Sanchez's case, the scholarship has allowed her to pay for living expenses such as rent and groceries and to lease her own vehicle for the first time.
"Sometimes I'm driving or studying and I start thinking about how unreal it is that I was able to move across country on my own and follow my dream," Solis Sanchez said. "It took me so long and at times I thought it was never going to happen. It's very unreal and I'm just really happy and thankful that I'm able to be here."
Stryker and Randjelović's gift funds two scholarship programs. The first supports students entering the master's degree program, and the second provides enhanced access and opportunity for students underrepresented in medicine to receive a full scholarship to earn an MD degree from the medical school. These scholarships will play a key role in enabling the medical school to become a more diverse, equitable, and inclusive learning community. 
"It is important that the medical profession reflects the wide diversity of the population that it serves," Stryker and Randjelović said. "This gift is intended to ensure that becomes a reality by increasing the number of medical doctors of color in America."  
Stryker has been a staunch supporter of the medical school, underwriting a wide array of projects including the team-based learning hall on the first floor of the W.E. Upjohn M.D. Campus that has been named in honor of his father, L. Lee Stryker. His family has left a legacy of philanthropy that has helped make the medical school a reality. Jon Stryker's sister, Ronda Stryker, and husband, William Johnston, gave the $100 million gift to Western Michigan University in 2011 that served as the foundational funding for WMed.
"The dual impact of the immediate scholarship support coupled with the permanently endowed scholarships will provide a legacy of educational opportunity for students from backgrounds underrepresented in medicine for decades to come," said Jack Mosser, the medical school's associate dean for Development. "We are truly grateful to Mr. Stryker and Mr. Randjelović for their visionary support for the students of WMed."
Recipients of the scholarships add to the diversity of the nation's next generation of physicians who want their patients to feel comfortable seeing doctors who look like them, said M1 Daniela Pinto Payares.
Pinto Payares immigrated to Colorado Springs from Venezuela with her parents when she was 16, and has worked diligently to obtain scholarships to pay for her schooling with some support from her parents. As an immigrant with a Green Card, Pinto Payares said she has had to navigate the system of financial aid that her American-born counterparts seem to understand better.
"Scholarships like this one give me a little bit more security that even if I have some debt, it's not as much," Pinto Payares said. "Scholarships like this allow me to take that financial burden from my father as much as I can. It also gives me hope that more people like me will be encouraged to study medicine."
Pinto Payares, who has served as a medical interpreter for family members, knows there is value in having a provider who understands a patient's culture and language. She said she wants to help patients feel comfortable talking to their providers and feel like their providers can relate to them.
"Having the deep conversations that you need to have with your doctor just because they speak your actual language or they understand your background a little bit more, because seeing your culture and they understand," Pinto Payares said. "For example, practices like why you eat the way you eat. Many times I think for Latinos, we get judged for how we eat. But it's so cultural. If it's a doctor that just kind of understands where you're coming from, and you can connect with him in a different way that you wouldn't be able to connect with anyone else."
M4 Ernest Morton learned of his scholarship award toward the beginning of his last year of medical school. Growing up in a mixed-race family in Kentwood, Mich., Morton said he always knew he wanted to be a doctor and his family was very supportive, but he knew he would be the one paying for college and medical school. He spent his undergrad years at Central Michigan University driving a truck for an ice company on weekends, summers and holidays to pay for school. With his salary and scholarships, he graduated without debt. 
Morton was in the first class that completed WMed's Masters in Biomedical Sciences program, and then started the five-year MD-MBA program offered by WMed and Western Michigan University's Haworth College of Business. The five-year program allows students to earn their MD degree and an MBA degree with a concentration in healthcare.
Morton said his desire to practice medicine came from the extra time he got to spend with his maternal grandparents thanks to the care they received from their medical teams.
"I cherished the years that I got with my grandparents and I realized that it was because of the care they received," Morton said. "I got to spend time with them and that was something I really cherished because I didn't get that with my paternal grandparents. I want to be able to give others that extra time with their loved ones and the opportunity to create more memories and spend time with them."
Morton said he was "floored" when he learned he had been a recipient of the diversity scholarship in his fourth year of medical school. Despite not having student loan debt from his undergraduate or two master's degrees, Morton said he will still graduate medical school with debt and this award will help to relieve some of the burden. 
"It's a huge relief and it's something I'm extremely thankful for," Morton said. "I feel a responsibility to pay this forward and to take this investment that they put into me and multiply that exponentially, whether that's through in the future donating to scholarship funds or through mentorship. This isn't something where they just gave it and it made a change today. It makes the change for years to come."