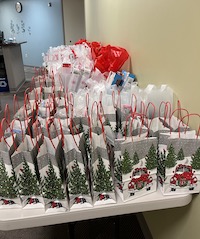 After a recent medical visit with a WMed Health physician, four-year-old Olive Shaffer had a tough decision to make.
Would she pick a book, a necklace, a doll, or a puzzle? A wide selection of gifts lined the tables at the pediatrics clinic at 1000 Oakland Drive.
In a yearly tradition that started in 2018, donors supply new books, toys, cold weather items, Christmas socks, hair accessories and other gifts for pediatric patients who visit WMed Health's general pediatrics and pediatrics subspecialty practices in the month of December. Each child is allowed to pick a Christmas gift after an appointment with a provider, and also is allowed to take home a gift for each sibling. 
Olive visits the clinic frequently – she and her mother travel from Battle Creek every three months – but she gets excited for her December visit each year.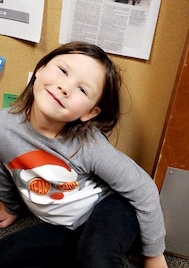 "It's amazing," said her mother, Renee Shaffer. "Olive looks forward to the appointment in December because she knows she gets toys. Her providers always go out of their way to make her feel special."
This year, Olive selected a baby doll and a tea set. She chose presents to put under the Christmas tree for her 7- and 12-year-old siblings as well. 
The holiday gifts are donated by medical school faculty members, staff and others in the Kalamazoo community who want to spread a bit of Christmas cheer. This year, children and adolescents were able to choose from more than 1,000 gifts grouped by age from newborn to 21.
Bags of tractors, cars, notebooks and pens, baby blankets, dolls, games, Barbies, puzzles, hats and gloves line tables in the clinic hallways throughout the month of December and until they run out. Patients are happily surprised when their providers and clinical staff invite them to pick out a toy for themselves and a sibling, said Dilip Patel, MD, MBA, MPH, chair of the medical school's department of Pediatric and Adolescent Medicine.
"With an unwavering support from our Kalamazoo community, this is our way of providing some joy for children during the holiday season," Dr. Patel said. "It provides a lot of joy and happiness for the clinic team here, too."