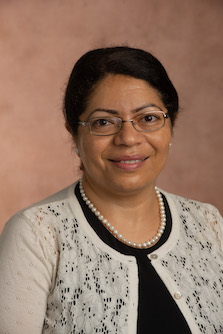 The medical school's Division of Pediatric Pulmonology and Sleep Medicine provides consultative services and continuity of care for pediatric patients with respiratory diseases in the WMed Health practices and in the hospital setting collaboratively with Bronson Children's Hospital. The continuity of care allows providers to build long-term relationships with patients and their families.
The Division of Pediatric Pulmonology and Sleep Medicine offers a multidisciplinary team approach to several diseases, including cystic fibrosis, severe asthma, chronic lung disease of prematurity/bronchopulmonary dysplasia, tracheostomy and home mechanical ventilation dependent children. The medical school's multidisciplinary team includes a physician, a pharmacist, a dietician, a medical social worker, a respiratory therapist, a physical therapist, a pharmacy technician, a clinical psychologist, two registered nurses for care coordination and a medical assistant. Patients from all over Southwest Michigan come to Kalamazoo to see the multidisciplinary care teams, who provide comprehensive care and use up-to-date, evidence-based medicine not often found in other local communities.
Other conditions we treat are chronic cough, stridor, tracheomalacia, bronchiectasis, primary ciliary dyskinesia, and management of respiratory involvement in various neuromuscular diseases. Our providers also see patients for the management of insomnia, central apnea, obstructive apnea, excessive daytime sleepiness, parasomnias, and other sleep disorders.
Our detailed assessments include various testing as needed such as laryngoscopy, bronchoscopy, pulmonary function testing and sleep studies.
Mariam Ischander, MD, is the chief of the Division of Pediatric Pulmonology and Sleep Medicine. She earned her medical degree from Faculty of Medicine, Alexandria University in Egypt in 1991. She is board certified in pediatrics, pediatric pulmonology, and sleep medicine. Dr. Ischander completed her fellowship in pediatric pulmonology at the University of California-Irvine in 2007. Dr. Ischander then worked at University of California-Los Angeles (UCLA), then at Loma Linda University in California then at Randall Children's Hospital, Portland, Oregon.
Joining Dr. Ischander in the division are Dr. Mark Goetting, associate professor in the Department of Pediatric and Adolescent Medicine, Dr. Myrtha Gregoire-Bottex, an adjunct associate professor, Dr. Andrey Leonov, a clinical assistant professor, and Dr. Roua Azmeh, a clinical assistant professor.
Our goal is to provide our patients with excellent and compassionate care, to spend time with our patients and families to understand their needs, to help them with treatment and decision making, and to be there for them when needed during sickness or hospitalization.
Services
The Division of Pediatric Pulmonology and Sleep Medicine provides a full spectrum of pediatric pulmonology and sleep medicine at our WMed Health practice located on the first floor of WMed Health's Oakland Drive Campus, 1000 Oakland Drive, Kalamazoo, MI 49008.
Division Team Members