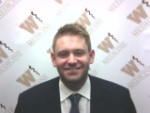 Samuel Coster, DO
Instructor, Department of Surgery
---
Biosketch
Samuel Coster, DO, is a resident physician in the General Surgery Residency Program of Western Michigan University Homer Stryker M.D. School of Medicine in Kalamazoo, Michigan. He attended Edward Via College of Osteopathic Medicine in Blacksburg, Virginia, and earned his medical degree in May 2020. He spent his intern year of general surgery training at the MedStar Georgetown-Washington Hospital Center general surgery program and joined the Western Michigan University general surgery program in July of 2021. Prior to attending medical school, he was a postbaccalaureate researcher at the National Institutes of Health in the Laboratory of Neurogenetics studying single nucleotide polymorphisms contributing to the development of neurodegenerative diseases. His clinical and research interests include trauma and acute care surgery and health care discrepancies between different socioeconomic groups.
Education and Training

Preliminary Residency 2021, General Surgery, Washington Hospital Center, Georgetown University
DO 2020, Virginia Campus, Edward Via College of Osteopathic Medicine
BS 2013, Biology, George Mason University

Research

acute care surgery
Trauma Surgery
Socioeconomic Factors
Polymorphism, Single Nucleotide
Neurodegenerative Disorders

Publications

Shebrain S., Coster S., Alfred A., De Cecco D., Khalil S., Munene G., Elian A., Timmons J., Sawyer R.G. Resident Autonomy and Performance Independence in Surgical Training Are Time- and Skill-Dependent Journal of Surgical Research. 2022;279:285-295.

Li N., Joska T., Ruesch C., Coster S., Belden W. The frequency natural antisense transcript first promotes, then represses, frequency gene expression via facultative heterochromatin Proceedings of the National Academy of Sciences of the United States of America. 2015;112(14):4357-4362.