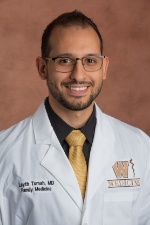 Layth Tumah, MD
Chief Resident, Department of Family and Community Medicine
Instructor, Department of Family and Community Medicine
---
Contact Information
Patient Care Related:
Family Medicine - Grace Health, 269.965.8866
Biosketch
Layth Tumah, MD, is a resident physician with the Family Medicine Residency Program - Battle Creek of the Western Michigan University Homer Stryker M.D. School of Medicine. He earned his medical degree from Jordan University of Science and Technology/School of Medicine. During medical school, Dr. Tumah was actively involved in multiple volunteer experiences with the International Federation of Medical Students Association-Jordan as a team leader and mentor for medical students. After medical school graduation, Dr. Tumah worked in a primary care clinic in an underserved community, in addition to working on clinical research.
Education and Training

MD 2016, Jordan University of Science and Technology

Research

Spinal Cord Injuries
Sleep heart health
Sleep Studies
Sleep Apnea Syndromes

Presentations

Implementing the Functional Medicine Certification Program in Family Medicine Residency: Enhancing Medical Knowledge and Patient Care While Reducing Burnout. Layth Tumah, MD. Ramona Wallace, DO, 2023 Annual International Conference (AIC): Advancements in Clinical Research and Innovative Practices in Functional Medicine, Orlando, FL, 06/2023