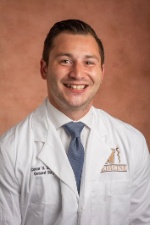 Conor Dillon, DO
Instructor, Department of Surgery
---
Contact Information
Patient Care Related:
Biosketch
Michigan State University College of Osteopathic Medicine
Michigan State University (Human Biology)
What are your interests and hobbies outside of work?
Music and exercise.
What is your clinical area of interest?
Trauma/critical care and vascular surgery
What do you like about training at WMed Surgery?
I chose WMed because of the people here – the residents, attendings, and faculty/staff. This is a program where the residents really look out for one another, from interns to chiefs. The support I've received from my co-residents has been the highlight of my intern year thus far. The attendings go out of their way to ensure you receive the best surgical education possible. They are very involved and supportive of our education regardless of your level of experience.
Education and Training

DO 2020, College of Osteopathic Medicine, Michigan State University
BS 2016, Human Biology, Michigan State University

Presentations

Outcomes of Emergency Laparoscopic vs. Open Surgery for Complicated Acute Peptic Ulcer Disease. Floth T, Dillon C, Shebrain S, Munene G, Sawyer R, 38th Annual Kalamazoo Community Medical and Health Sciences Virtual Research Day, Kalamazoo, Michigan, 04/2021
Treatment of hidradenocarcenoma of the scalp with wide local excision: case report of a rare and malignant tumor. Dillon C, Sevensma K, Morgan W, 17th Annual Metro Research Day, Grand Rapids, Michigan, 05/2019