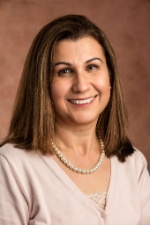 Berrin Ergun-Longmire, MD
Division Chief, Department of Pediatric and Adolescent Medicine
Associate Professor, Department of Pediatric and Adolescent Medicine
---
Contact Information
Patient Care Related:
Pediatric Endocrinology and Diabetes, 269.337.6430
Biosketch
Berrin Ergun-Longmire, MD, is a board-certified pediatric endocrinologist with the Department of Pediatric and Adolescent Medicine, Western Michigan University Homer Stryker M.D. School of Medicine, Kalamazoo, Michigan. She is also Division Chief for the Division of Endocrinology in the Department of Pediatric and Adolescent Medicine.
Dr. Ergun-Longmire is a graduate of Istanbul University Cerrahpasa Medical School in Istanbul, Turkey. She completed her residency in obstetrics and gynecology in Turkey. She then completed a research fellowship at The Center for Reproductive Medicine and Infertility at New York Presbyterian Hospital-Weill Medical Center of Cornell University, New York, New York. She completed an additional residency in pediatrics at Monmouth Medical Center in Long Branch, New Jersey, and a fellowship in pediatric endocrinology at New York Presbyterian Hospital-Weill Medical College.
After completing her fellowship, Dr. Ergun-Longmire worked as an attending physician and faculty in numerous medical schools and children's hospitals. She has most recently been Chief of Pediatric Endocrinology, Founder of Division of Pediatric Endocrinology in the Studer Family Children's Hospital at Sacred Heart affiliated with the University of Florida in Pensacola, Florida.
Throughout her carrier, Dr. Ergun-Longmire has served as principal investigator on studies focusing type 1 and type 2 diabetes in pediatric patients and has given numerous professional presentations on topics ranging from growth, childhood obesity and the type 2 diabetes epidemic in children. Her clinical, teaching, and research interests include medical education, population health, and health delivery systems.