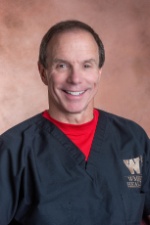 Thomas A Melgar, MD
Division Chief, Department of Medicine
Professor, Department of Medicine
Professor, Department of Pediatric and Adolescent Medicine
---
Contact Information
Patient Care Related:
Internal Medicine, 269.337.6300
Medicine-Pediatrics, 269.337.6345
Biosketch
Dr. Thomas Melgar is as professor in the Department of Pediatric and Adolescent Medicine and also in the Department of Medicine. Dr. Melgar is Board Certified in Pediatrics and Internal Medicine.  He is employed by Western Michigan University Homer Stryker M.D. School of Medicine. He is a graduate of the State University of New York with a BS in Biochemistry (high honors) in May 1983. He earned his medical degree also from State University of New York School of Medicine in May 1987. He completed an Internal Medicine/Pediatrics residency in May 1991 at Detroit Medical Center - Wayne State University.  He received additional training in Global Health and Tropical Medicine through the Global Medicine programs at the Univdersity of Minnesota and the University of Massechusetts Amherst and is Certified by the American Society of Tropical Medicine and Hygiene. He received ultrasound training through the American Society of Critical Care Medicine, Sonosite, Bronson Methodist Hospital and the American College of Physicians. He is also a testamur in Critical Care Echocardiography.