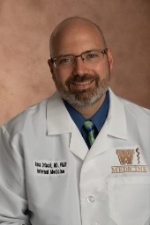 Ross E Driscoll, MD
Assistant Professor, Department of Medicine
Assistant Professor, Department of Medical Ethics, Humanities, and Law
---
Contact Information
Patient Care Related:
Internal Medicine, 269.337.6300
Biosketch
Ross Driscoll MD FACP, is an internal medicine physician. He is a graduate of the University of Nebraska Medical Center. He completed his residency at Michigan State University Kalamazoo Center for Medical Studies. He completed a primary care faculty development fellowship at Michigan State University. He has faculty appointments in both the department of Internal Medicine and the department of Medical Ethics, Humanities, and Law. Academic positions have included lead clerkship director for the 4th year advanced medicine rotation and associate program director. He is currently an assistant clinical professor at Western Michigan University Homer Stryker M.D. School of Medicine where he serves as a clinical scholar advisor for 1st and 2nd year medical students and a member of the faculty academic council. He is actively involved in teaching clinical physical examination and history taking skills, clinical ethics, and internal medicine board review.