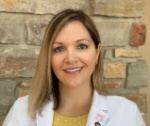 Samantha L Leonard, MD
Clinical Assistant Professor, Department of Surgery
---
Biosketch
Samantha Leonard, MD, is a board-certified general surgeon with Ascension Borgess Surgical Specialties. She is a graduate of Memorial University of Newfoundland in St. Johns, Newfoundland and Labrador, Canada, where she studied biochemistry and immunology. She left the island of Newfoundland to attend the Keith B. Taylor Global Scholar Program through St. George's University in Newcastle, United Kingdom, and obtained her medical degree in 2013.
Dr. Leonard commenced her surgical training at Harlem Hospital in New York City, New York, and then on to Western Michigan University Homer Stryker M.D. School of Medicine in Kalamazoo, Michigan. She completed her general surgery training at the University of Minnesota in Minneapolis, Minnesota, and was the first resident to complete their rural track.
Dr. Leonard is passionate about rural medicine and has presented research on rural trauma epidemiology in both the public and academic setting. She is passionate about breast oncology, resident education, and rural surgical training.
Education and Training

Residency 2018, General Surgery, University of Minnesota
Preliminary Residency 2015, General Surgery, Western Michigan University Homer Stryker M.D. School of Medicine
Preliminary Residency 2014, General Surgery, Harlem Hospital Center
MD 2013, St. George's University
BSc(Hons) 2008, Biochemistry, Memorial University of Newfoundland

Research

breast surgery
Surgical Oncology
Melanoma Surgery
Hernia Surgery (open and laparoscopic)
Colorectal Cancer

Publications

Leonard S., Woehrle T., Nikizad H., Vearrier J., Odean M., Renier C., Bollins J., Eyer S. Blunt traumatic brachial plexus injuries in a northern rural US setting: Increased likelihood in unshielded motor-powered crashes Trauma Surgery and Acute Care Open. 2020;5

Mercier P.J., Skube S.J., Leonard S.L., McElroy A.N., Goettl T.G., Najarian M.M., Termuhlen P.M., Chipman J.G. Creating a Rural Surgery Track and a Review of Rural Surgery Training Programs Journal of Surgical Education. 2019;76:459-468.