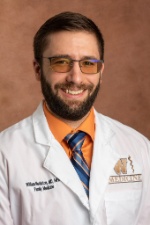 William D Nettleton, MD, MPH
Assistant Professor, Department of Family and Community Medicine
---
Contact Information
Patient Care Related:
Family Medicine - Crosstown Parkway, 269.585.0200
Family Medicine - Oakland, 269.337.6500
Family Medicine Obstetrics - FHC, 269.349.2641
Biosketch
William Nettleton, MD, MPH, is an Assistant Professor in WMed's Department of Family and Community Medicine and Medical Director of Kalamazoo County Health and Community Services Department and Calhoun County Public Health Department. He sees patients and teaches resident physicians and medical students as part of WMed's Family Medicine Residency Program at their clinical site on Crosstown Parkway. He also attends to hospitalized patients on the family medicine inpatient service at Bronson Methodist Hospital and teaches medical students at WMed.
Dr. Nettleton attended Hope College where he earned degrees in philosophy and biology in 2007. He has a Master's degree in Public Health and graduated from Wayne State University School of Medicine in 2012.
Dr. Nettleton completed a four year dual residency in Family Medicine and Preventive Medicine/Public Health at the Oregon Health & Science University in Portland, Oregon. He is board certified in both family medicine and general preventive medicine and public health.
Dr. Nettleton served as the 2020 President of the Michigan Association of Preventive Medicine and Public Health Physicians. He was recognized as a 40 under 40 leader in public health by the de Beaumont Foundation in 2021. He received the Good Government Coin from the Michigan Department of Health and Human Services in 2022 for excellence in public health practice.