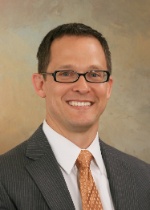 Hunter G Brumblay, MD
Clinical Assistant Professor, Department of Surgery
---
Biosketch
Hunter Brumblay, MD, is a board-certified neurological surgeon with Borgess Brain and Spine Institute in Kalamazoo, Michigan. He is a graduate of Harvard University in Cambridge, Massachusetts. He earned his medical degree from University of Vermont College of Medicine in Burlington, Vermont. He completed a residency in neurosurgery with University of Michigan Medical School in Ann Arbor, Michigan, which is also where he completed a clinical fellowship focusing on spinal surgery.
Education and Training

Residency 2009, Neurosurgery, University of Michigan-Ann Arbor
Clinical Fellowship 2008, Spine Surgery, University of Michigan-Ann Arbor
MD 2002, University of Vermont
AB 1993, History and Science, Harvard University

Language Fluency

French, fluent
Spanish, fluent
Wolof, functional

Publications

La Marca F., Brumblay H. Smith-Petersen osteotomy in thoracolumbar deformity surgery Neurosurgery. 2008;63(3 SUPPL.)

Ulgen B.O., Brumblay H., Yang L.J.S., Doyle S.M., Chung K.C. Augusta Dijerine-Klumpke, M.D. (1859-1927): A historical perspective on Klumpkes palsy Neurosurgery. 2008;63(2):359-366.

Wong D., Leveque J., Brumblay H., Krebsbach P., Hollister S., LaMarca F. Macro-architectures in spinal cord scaffold implants influence regeneration Journal of Neurotrauma. 2008;25(8):1027-1037.

Wong D.Y., Liao E.E., Leveque J.C., Brumblay H., Lin C.Y., Lamarca F., Krebsbach P.H., Hollister S.J. Engineered scaffold architecture influences soft tissue regeneration Bio-Materials and Prototyping Applications in Medicine. 2008:67-78.

DeGregoris G., Brumblay H., Arts H., Thompson B. Lipochoristoma of the cerebellopontine angle Otology and Neurotology. 2007;28(6):867-868.

Brumblay H., Khoshyomn S., Tranmer B., Braff S. Giant cavernous angioma Pediatric Neurosurgery. 2001;35(6):336.

Sturm-Ramirez K., Brumblay H., Diop K., Guèye-Ndiaye A., Sankalé J.L., Thior I., N'Doye I., Hsieh C., Mboup S., Kanki P.J. Molecular epidemiology of genital Chlamydia trachomatis infection in high-risk women in Senegal, West Africa Journal of Clinical Microbiology. 2000;38(1):138-145.

Wang W., Dudek T., Zhao Y., Brumblay H., Essex M., Lee T. CCR5 coreceptor utilization involves a highly conserved arginine residue of HIV type 1 gp120 Proceedings of the National Academy of Sciences of the United States of America. 1998;95(10):5740-5745.

Wang W.K., Essex M., Mclane M.F., Mayer K.H., Hsieh C., Brumblay H., Seage G., Lee T.H. Pattern of gp120 sequence divergence linked to a lack of clinical progression in human immunodeficiency virus type 1 infection Proceedings of the National Academy of Sciences of the United States of America. 1996;93(13):6693-6697.