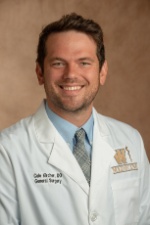 Cole J Kircher, DO
Chief Resident, Department of Surgery
Instructor, Department of Surgery
---
Contact Information
Patient Care Related:
Biosketch
Rocky Vista University College of Osteopathic Medicine
St. Cloud State University (Elementary Education, Biomedical Science)
What are your interests and hobbies outside of work?
I enjoy doing anything outdoors (mountain biking, hiking, and camping). I spend as much time as I can with my wife, son, and our three dogs.
What is your clinical area of interest?
I am interested in rural/general surgery.
What do you like about training at WMed Surgery?
I chose WMed because it was the program that I felt fit me best after doing a Sub-I here during my fourth year of medical school. The faculty are invested in training quality general surgeons who are well equipped to begin practicing out of residency or to enter into fellowship. Outside of the hospital, I enjoy the low cost of living and central location of Kalamazoo.
Education and Training

DO 2018, College of Osteopathic Medicine, Rocky Vista University
Postbaccalaureate Studies 2013, Biomedical Science, Saint Cloud State University
BES 2012, Elementary Education, St. Cloud State University

Presentations

Robotic-Assisted Laparoscopic Surgery as Therapeutic Approach for Severe Inguinodynia After Laparoscopic Inguinal Hernia Repair. Shehadeh A, Kircher C, Shebrain S, 38th Annual Kalamazoo Community Medical and Health Sciences Virtual Research Day, Kalamazoo, Michigan, 04/2021